Filing a Complaint with the Energy Ombudsman QLD (EWOQ)

Ombudsman are impartial and independent agencies, tasked with resolving disputes in a free and fair way. In Australia, each state has their own energy and water ombudsman which is available to help resolve complaints or disputes you might have against your energy provider. If you're having a problem with your energy provider, or just want to know more about the complaints resolution process in case you need it in the future, keep reading below to learn more about the Energy Ombudsman in Queensland.
---
Who is the Energy Ombudsman QLD?
Ombudsmen are independent agencies that assist in dispute resolution. There are ombudsman for different government departments and private industries. In Australia, each state and territory has their own Energy and Water Ombudsman to help with disputes and complaints relating to electricity, gas, and water supply.
Energy and Water Ombudsman are industry-based, meaning they resolve complaints against their members in a fair and impartial way, without taking either the industry or consumers' side.
The Energy Ombudsman QLD (EWOQ) is available to residents in Queensland, who are having trouble with their energy provider. They resolve a number of different types of complaints or disputes, including problems with billing and payment difficulties, misleading marketing tactics, or issues with energy supply.
How can the Energy Ombudsman in Queensland help me?
The Energy and Water Ombudsman in Queensland can help you with a number of issues. If the problem or dispute you have isn't part of EWOQ jurisdiction, they're also able to help you get in touch with the appropriate authorities.
Energy Ombudsman QLD jurisdiction
Type of issue
What the ombudsman deal with
Billing issues

High bills
Delayed or late bills
Errors and estimated meter readings
Tariffs
Refunds

Contract issues

Changing providers
Cancellations
Cooling-off period

Customer service

Incorrect or misleading marketing
Unprofessional behavior
Privacy breaches
Lack of contact or communication

Damages or loss

Damages to property
Vegetation management around powerlines
Maintenance obligations

Connections and supply

Problems with connections
Disconnections
Planned and unplanned outages
Damage to your smart meter due to an outage

Marketing

Problems with salespeople or telemarketers
Misleading marketing tactics

Payment difficulties

Payment plans
Debt collectors
Credit issues
Default listings
It's important to remember that there are problems the Energy Ombudsman in Queensland can't help with, or that are outside of their jurisdiction, such as:
Any problems you have where you first haven't contacted your provider
Any problem that's been ongoing for more than 12 months since you became aware of it
Frivolous or vexatious problems
Decisions the Ombudsman or legal proceeding has already made
Problems the Australian Energy Regulator or Queensland Competition Authority can help with.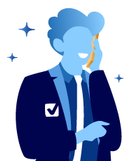 Need Help Switching Electricity or Gas Provider?
Selectra can help! See exclusive offers from OVO Energy below!
How to lodge a complaint with the Energy Ombudsman QLD
If you're having a problem with your energy provider, there is a process you need to go through in order to submit and resolve a dispute.
The first step is to contact your provider to give them a chance to fix the problem. When you contact your provider, you should:
Read their dispute resolution process
Clearly explain the problem and how you would like to fix it
Take notes about the conversation
Give them a chance to check the problem, and get back to you with their decision.
If you're still unhappy with the resolution, you can request and review or appeal with the energy provider or you can choose to involve the Energy Ombudsman.
If you choose to involve the Ombudsman, you can send your complaint to them via their online form. If you're speaking on behalf of someone else, they will need to confirm over the phone that you are authorised to speak on their behalf or they will need to send an Authority to Act Form.
Once you've submitted a complaint online, the Energy Ombudsman will contact you by telephone, and will give you the choice of escalating your complaint through your energy provider's dispute and complaints team or opening an investigation. If you choose to escalate your complaint to a higher level through your energy provider:
The Energy Ombudsman will contact your provider to explain the complaint and the result you want
Your energy provider will get in contact with you within five business days
If your problem isn't fixed through your energy provider, you can contact the Energy Ombudsman for more help
If you and the Energy Ombudsman Qld feel that opening an investigation is a more appropriate way to resolve your dispute, they will:
Send your energy provider a "Notice of Investigation" explaining your problem and how you would like it fixed, as well as a request for the energy provider to tell them how they will fix it.
The Ombudsman will read their response, and possibly ask for more information. This can take some time depending on the complexity of the problem.
If the Ombudsman feels the response and resolution is adequate, they will contact you. If the Ombudsman cannot get a fair and reasonable result that both you and your provider can agree upon, the Ombudsman may make the final decision.
If you are still unhappy, you may want to compare energy providers and consider switching.
Did you know?If you have solar panels or are interested in adding solar to your home, you could qualify for a Queensland solar rebate!
What if the Energy Ombudsman QLD has to make a final order?
A "final order" occurs when a complaint can't be resolved through negotiation or conciliation. When this happens, the Energy Ombudsman will make a final order, requiring the energy company to take a certain action to finalise the dispute. It should be noted that no final orders have been needed since 2015.
In most instances, the final order has been due to the energy provider failing to pay a customer's solar feed-in-tariff, with one instance being the energy provider failing to close a customer account.
What if I'm unhappy with how the Energy Ombudsman handled my complaint?
While this doesn't happen often, there are times where you might feel the Energy Ombudsman didn't do their job fairly and impartially, or you might feel you were mistreated during the process. If you have any complaints about the Energy Ombudsman Qld, you can submit a complaint either by phone, in writing, or via online form.
Contact the Energy Ombudsman QLD to make a complaint

| Phone | Writing |
| --- | --- |
| 1800 662 837 | PO Box 3640, South Brisbane BC Qld 4101 |
If you submit a complaint to the Energy Ombudsman Qld, they will first contact you upon receiving the complaint, and again after they investigate your complaint.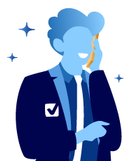 Need Energy Advice?
Read our full set of energy guides for advice on providers and plans.
How to contact the Energy Ombudsman QLD
If you would like to submit a complaint against an energy provider, you must do so through their Online complaint submission form
If you need to contact the Energy Ombudsman Qld for anything other than submitting a complaint, you can do so by their online form, over the phone, by fax, or by post.
Ombusdman services include:
Feedback about EWOQ services
Media enquiries
Invitations to events
General questions or concerns
Contact Energy Ombudsman QLD

| Phone | Fax | Post |
| --- | --- | --- |
| 1800 662 837 | (07) 3087 9477 | PO Box 3640, South Brisbane BC Qld 4101. |
The Energy Ombudsman Qld have three offices, which can be found at:
Brisbane: Level 16/53 Albert St, Brisbane City QLD 4000
Rockhampton: 2/209 Bolsover St, Rockhampton QLD 4700
Cairns: 15 Lake St, Cairns City QLD 4870
What else can the Energy Ombudsman Qld help me with?
In addition to helping to resolve complaints, the Energy Ombudsman Qld have a list of additional support services and information about a number of topics, so you can find the exact help you need about a number of topics. Other ombudsman services include:
Cultural services
Indigenous services
Financial services
Legal services
Tenancy services
Community services
Click below to find a better deal for your home!