Vodafone Australia Review | See NBN & Mobile Plans

Sign Up Now
---
Vodafone is one of three network providers in Australia, operating on its own mobile network. In addition to their mobile network, Vodafone also offers NBN services to customers across Australia. Continue reading for more information about Vodafone in Australia and find your best fit among Australia's mobile phone and broadband providers, today.
Vodafone's network is owned by TPG which is a major telecoms entity in Australia.
What Services Does Vodafone Offer?
Vodafone offers three main areas of service to its customers:
Vodafone mobile plans
Vodafone internet plans
Vodafone phones & devices
To be more specific, here is a table with all of the services Vodafone offers to its customers - in greater detail:
Vodafone Mobile
Vodafone NBN / Internet
Vodafone Devices

Plans with phones
SIM Only plans
Prepaid mobile plans
Mobile broadband plans

NBN plans
4G home internet plans
5G home internet plans
Prepaid mobile broadband
SIM only mobile broadband
Mobile broadband modems

iPhones
Smartwatches
Playstation5
Android phones
Tablets
Airpods
Prepaid phones
Vodafone Reviews: Is Vodafone Any Good?
We took a look into Vodafone reviews around the web left by real customers to get an idea of how happy people are with their service.
Here is how Vodafone Australia was ranked on 2 major reviews sites:
ProductReview: 1.5 stars
TrustPilot: 1.4 stars
So, why does Vodafone Australia have such bad reviews?
The majority of bad reviews deal with Vodafone network issues with customers mentioning black spots, dropped calls, inaccessible roaming data when abroad and the like.
Here's one Vodafone review from a customer name, a customer named Jono M.:
Vodaphone has THE WORST network coverage of any provider I've ever used, and I've used most of them.
Constant dropouts on phone calls, failed text messages, no internet, poor reception.
Every time you call the technical centre for help, they go through the same crap troubleshooting which never works. You end up wasting more time giving out your details to the operator and If you get passed on to another operator, guess what, you have to give them all your details over and over again. - Jono M.
This is a great summary of what the majority of other Vodafone reviews mention.
Another customer with the screen name Avatar Casey wrote:
After being a loyal customer with Vodafone for many years I can now this is by far the No.1 worst telecom company.
Their network sucks everywhere. And in many areas you will get good reception with you will have no internet
You cannot talk to someone for 5 minutes without breaking up
If you love to travel DO NOT GO WITH VODAFONE. - Avatar Casey
As we mentioned, several reviews talk about people travelling and not having service on their trips. This would be a major inconvenience, especially as we all like to use maps when travelling.
However, there are some positive reviews we all.
Customers who gave Origin Energy one-star reviews mentioned that their energy rates continue to go up and that they have trouble negotiating with the company.
One customer named Sheran explained their positive, decades-long relationship with Vodafone:
I have been a customer of Vodafone Australia for many years from the time I was using a palm pilot before I got my first mobile phone. I have to say that over the years Vodafone has proven to be a reliable, affordable and caring (yes caring!) phone service. They consistently reward their loyal customers with bonus data. When you call them you get a real person on the line without being on hold for ages. Their monthly rates are amazing. I cannot recommend Vodafone more and I thank them for taking such good care of me, Sheran. - Sheran
This just goes to show that service is really subjective.
What Sheran seems to like about Vodafone is its reliability, affordability and positive customer service. However, in her Vodafone review, Sheran doesn't mention anything about Vodafone network issues which is surprising as nearly all the reviews mention issues with the Vodafone network
As always, we recommend taking these Vodafone reviews with a grain of salt as everyone's experience will be different.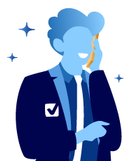 Looking for Broadband & Mobile Deals?
See exclusive online offers from Southern Phone! Compare NBN plans and providers.
Telstra vs Vodafone: Is Vodafone Better Than Telstra?
Vodafone has generally cheaper plans than Telstra and a wider variety of plans. Vodafone also has a 30-day money-back guarantee on certain plans.
In terms of phones and mobile devices, both Telstra and Vodafone have similar offerings. Where Telstra does beat Vodafone is with its mobile network coverage.
Telstra has a larger and wider network than Vodafone and has a better reputation in terms of coverage and connectivity than Vodafone. However, both offer their individual pros & cons. At the end of the day, the Telstra vs. Vodafone debate comes down to the specific plan you are interested in.
However, it may be worth paying a bit more for better service. After all, the plan won't be useful if you can't connect to the network.
Vodafone Network Coverage
As you may well know, every mobile phone in Australia is connected to one of three mobile networks:
Vodafone
These companies all open and operate their own networks, whereas all other companies simply pay for access to use these networks. Therefore, Vodafone is a major player in the mobile industry.
According to Vodafone, their network serves over 96% of the population in Australia offering 3G, 4G and 5G network connectivity. However, Vodafone is still in the process of rolling out its 5G network, so it's only widely available in major cities.
You can check the Vodafone network coverage map below to see if Vodafone's network covers the area where you live.
Interactive Vodafone Network Coverage Map
As of 2022, Vodafone has embarked on a massive $20 million investment project together with the Australian government to invest in new mobile towers in an effort to reduce black spots across Australia. The "Mobile Blackspot Program" plans to invest in 75 new mobile towers across NSW, QLD, VIC, and TAS.
Vodafone is so confident in their network that they offer new customers (with a qualifying plan) the option to try their services for 30 days. If you are unsatisfied with your coverage, Vodafone will refund your payments. To get a refund, you must return your device in its original packaging within 10 days of filing your claim.
Vodafone Mobile Plans
Vodafone offers a wide variety of mobile plans depending on your needs.
Vodafone mobile plans come in the following categories:
Plans with phones
SIM-only plans
Prepaid mobile plans
Mobile broadband plans
All Vodafone mobile plans come with a no lock-in contract, and you are free to change your plan if you need.
Vodafone is also running a deal on some plans that offer 3 months free of Amazon Music plus a huge monthly data bonus (70 GB - 140 GB) for select plans.
See All Vodafone Mobile Phone Plans & Prices
Vodafone SIM-only plans
Vodafone SIM-only plans run on a month-to-month basis.
There are several different packages starting at $40 for 80GB of data and going all the way up to the Vodafone Ultra+ Plan which offers unlimited data and the fastest speeds for $65 per month.
Vodafone SIM-only plans mean that you must provide the phone. You will only receive a SIM card when you purchase your plan.
If you are in the market for a new phone, you can purchase a separate Vodafone phone plan, where you pay off your new handset over 12, 24, or 36 months along with your monthly mobile plan.
Vodafone Prepaid Mobile Phone Plans
Vodafone Prepaid mobile phone plans are available on both a 28-day expiry or a long-term expiry of 6 months or 12 months.
With Vodafone prepaid plans, you will pay upfront for your data and calling package and will run out of calls and data at the end of each expiry period. However, Vodafone's prepaid plans do include a databank feature, meaning any unused data (up to 200GB) at the end of the expiry period will be rolled over the next time you recharge.
Vodafone prepaid plans start at 40GB for $30 and go all the way up to 150GB for $150. All plans come with unlimited national calls and texts.
Vodafone Trade-in You can trade in an old phone or tablet once every 12 months for credit toward your monthly Vodafone bill. When you trade in your old device, you can get a recurring monthly credit that will last for the duration of your bill (12,24, or 36 months) Check your Eligibillity for a Vodafone trade in here.
Vodafone Internet: NBN & Home wireless broadband
As a major network operator in Australia, Vodafone offers both NBN and home wireless broadband across the country. Discover more about Vodafone internet plans by reading on below.
See All Vodafone Internet Plans & Prices
Vodafone NBN plans
Vodafone NBN plans offer flexible broadband to households in Australia.
Choose your Vodafone NBN speed and get unlimited broadband data on a month-to-month contract with a 30-day network guarantee. With Vodafone NBN you can either bring your own NBN-compatible modem or get a Vodafone 4G backup modem for free if you stay with Vodafone for 36 months.
Vodafone PS5: Are you a gamer? Check out the Vodafone PS5 plan. Pay off your PlayStation 5 for just $28.83/month for 36 months. The Vodafone PS5 Digital is even cheaper, starting at $16.67/month. Get cheap add-ons like remotes and headsets starting a $3.99/month. See all the Vodafone PS5 plans here.
Vodafone 4G Home Internet
If you're looking for an NBN alternative, Vodafone home wireless broadband connects the devices in your home to the 4G Vodafone network. Choose between 200GB of data per month, or 400GB of data per month at full speed, and if you use up your data allowance you can continue browsing the internet at 1.5Mbps speed.
Vodafone home wireless broadband comes with a wireless broadband modem, for $6 per month over 36 months. If you cancel your plan any time before 36 months you will need to pay out the remaining cost.
Vodafone SIM-only mobile broadband
Vodafone mobile broadband plans mean you can bring the internet wherever you go.
Vodafone SIM-only mobile broadband plans give big data to customers, on a no-contract, month-to-month basis. Customers can bring their own mobile broadband device, such as a hotspot or tablet, or choose a 4G modem or pocket WIFI device through Vodafone directly.
Vodafone prepaid mobile broadband
Vodafone prepaid mobile broadband is a simple way to connect any unlocked device, such as a mobile broadband modem, dongle, hotspot, or tablet, to the internet no matter where you are. Choose how much data you want and whether you want to purchase a Vodafone mobile broadband modem or hotspot, and recharge your plan every 30 days.
Vodafone prepaid? Recharge your Vodafone prepaid plan either online through Vodafone Express Recharge or via your My Vodafone account with a valid bank card or recharge voucher.
Vodafone Contact Numbers & Customer Support
If you're looking to contact Vodafone customer service you can call Vodafone with one of the phone numbers below or visit our complete guide on how to contact Vodafone.
In addition, Vodafone Live Chat is available to help you with any problem, question, or concern you may have.
My Vodafone Account
If you're already a Vodafone customer you have access to My Vodafone, your online account management platform.
With Vodafone My Account, you can:
Check and manage your data usage and international call minutes
Manage your plan, purchase add-ons, and change plans if you need to
Pay your Vodafone bill, manage your direct debit, view recent bills
Recharge your Vodafone prepaid service and view your recharge history
Manage your Vodafone NBN services
If you haven't yet registered for My Vodafone, you can do so online or download the My Vodafone app from the Google Play or App Store.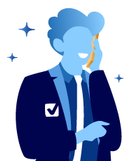 Need to help finding a better broadband plan?
Yomojo has fast home broadband with no installation! Online in Minutes!
Vodafone Activate & Signup
You can purchase any Vodafone mobile or broadband plan online and get your device and service delivered to your door.
If you opted for a Vodafone prepaid SIM starter pack, you can activate your service online. All you need to activate your Vodafone prepaid plan is your SIM pack with the activation key, and a valid form of ID.
How to Pay a Vodafone Bill
You can pay a Vodafone bill in the following ways:
By Direct Debit
Over the Phone
By SMS
Using BPAY
To pay a Vodafone bill by Direct Debit, you can link your bank account or use a Visa, Mastercard, Diners Club or American Express card. If you pay by card, there are transaction fees.
To pay your Vodafone bill by phone, call Vodafone customer service directly by dialling either 1555 from your Vodafone mobile or 1300 650 410 from any other phone in Australia.
If your bill is late, Vodafone may send you an SMS as a reminder. You can pay your bill by SMS by responding "Y" to the text message.
Lastly, you can pay your Vodafone bill using BPAY. Enter the biller code 52225 and your 9-digit account number.
SIM-only and NBN home broadband customers can pay their Vodafone bill directly through the My Vodafone app or online. You can also pay your Vodafone bill by calling Vodafone customer service directly by dialling either 1555 from your Vodafone mobile or 1300 650 410 from any other phone in Australia.
Vodafone Frequently Asked Questions
How do I speak to a human representative at Vodafone Australia?
You can speak to a human representative at Vodafone Australia by calling 1555 from your Vodafone mobile device or 1300 650 410 from any other Australian phone during normal business hours. You can also open the Vodafone chat app and write "speak to an agent" and the chatbot will connect you.
Does Vodafone use the Telstra network?
How Do I Cancel My Vodafone Service?
Vodafone offers a 30-day network guarantee for all its network services. To close your account after the 30-day guarantee, you can either call 1555 from a Vodafone phone or 1300 650 410 from a different phone.
If you're overseas you can dial +61 426 320 000.
Keep in mind that any outstanding device payments will need to be paid off before you can cancel your service.
Is Vodafone Network Down?
It's rare that is a complete Vodafone network outage, but many customers report frequent Vodafone network issues such as dropped calls and failed calls. If you think you have a network issue, you can check for a Vodafone outage here.
Click below to find a better deal for your home!