Solar Panels: Cost, Installation & Rebates - Explained

Did you know 1 in 4 homes in Australia has solar panels on their roof? Solar energy saves some people around $540 per year on their electricity bills. So are solar panels right for you? Below we explain, what solar panels do, the types you can choose from, which are best, how much they'll cost you, the installation process, and how to save money on your solar panels through government rebates and exporting to the grid. Read on for more.
Types of Homes Solar Panels
There are many different ways to generate residential solar energy. Cost, efficiency, aesthetics, and the layout of your home and roof, as well as what you hope to get out of your solar energy, can all play an important role in choosing the right type of solar energy generation for your home.
Click on the type that interests you from the dropdown below to see more.
Traditional Solar Panel Systems
Traditional solar panels (Solar PV systems) are among the most popular and most common types of rooftop solar systems. Within the umbrella of "solar panels" there are three main types:
 Monocrystalline Solar Panels: The oldest and most developed solar panels. These panels are created from a single, continuous crystal structure, which increases efficiency and allows them to be used for many years (some monocrystalline solar panels are still in use from the 1908's). The average efficiency of monocrystalline panels is 18%.
 Polycrystalline Solar Panels: While similar to monocrystalline solar panels, these panels are made from pieces of silicone crystals, rather than one continuous crystal structure. While traditionally seen as inferior to monocrystalline, polycrystalline solar panels now offer a more cost-effective and comparably efficient alternative to the more expensive monocrystalline panels.
 Passivated Emitter and Rear Cell (PERC) panels: PERC panels are like monocrystalline panels, but have a passive layer at the rear that reflects light back into the panel for extra absorption, therefore, making them more efficient.
 Thin-film solar panels: Unlike crystalline solar panels, thin-film solar panels are made by coating glass or steel with a thin layer of light-absorbing material. These panels are significantly less efficient than mono or polycrystalline solar panels, with 9-13% efficiency. However, thin-film solar panels are more cost-effective and have more flexibility when it comes to installation allowing them to be installed on surfaces that crystalline panels might not be able to be installed on.
PERC panels tend to be considered the best solar panels for Australia because they are the most efficient: 
Thin-film solar panels have an efficiency rating between 9-13%
Polycrystalline panels have an energy rating between 15-17%.
Monocrystalline panels have a 20%+ energy rating.
PERC panels have around a 25%+ efficiency rating.
Solar Thermal Panels
Solar thermal panels are less well known than traditional solar panel systems.
Unlike solar PV which transforms the sun's energy into electricity using a generator, solar thermal energy heats up the water inside cylinders attached to your roof, which is then used to heat your home and water.
Solar thermal systems can often provide anywhere from 40% to 90% of your home's hot water supply. However, since they do require the sun to be shining in order to effectively heat your home and water, you will need to supplement your solar thermal system with an electric or gas boiler.
There are three main types of solar thermal systems:
 Flat-plate collectors: Large, solar panel-like collectors which attach to your roof and transfer the heat of the sun to a hot water tank. These are more affordable, but not the most efficient choice.
 Evacuated tube collectors: While similar to flat-plate systems, evacuated tube collectors use glass tubes to transfer heat to a hot water tank. While more efficient than flat-plate systems, they are also the most expensive.
 Heat-pump systems: These systems collect heat from the air, rather than direct sunlight, to heat your household's water. These do require electricity to pump the hot air, but not a significant amount.
Solar thermal systems can cost between $3,000 and $7,000 depending on the type of system, which can be up to $5,000 more than choosing a traditional gas or electric hot water system. However, the running costs for a solar thermal system can be up to $200 less per year than running an electric hot water storage system.
Solar pool heating? Pools can use a lot of energy between heating, cleaning, and running a filter. Discover how you can benefit from solar pool heating to reduce the cost of owning a pool.
Solar energy tiles
If you don't like the aesthetics of solar panels on your roof, but want to benefit from a solar PV system for your home, solar energy tiles can be an attractive alternative.
Tesla made these tiles famous with its solar roof. Howeverm they're generally known as building-integrated photovoltaics (BIPV) and are integrated into your roof rather than attached on top, creating a more streamlined appearance.
Solar roof tiles are better looking than traditional solar PV systems, but they are less efficient and more expensive.
Solar roof tiles have an average efficiency of 10%, whereas monocrystalline solar panels have an average efficiency of 20%+
Solar PV systems can cost around $4,000 to $6,000, while solar energy tiles can cost you over $10,000 for the entire system with installation and an inverter
Need Energy Advice ?

Selectra's energy experts are available to help you free of charge


(Free Selectra Service - Currently open)

Call center currently closed (free service - open Monday to Friday from 10am -7pm)

Speak to a Selectra energy expert about all your energy needs !
How Do Solar Panels Work?
Solar panels, and the technology behind them, might seem complicated, but when the step-by-step process of transforming the sun into electricity is broken down, it's relatively straightforward.
 Solar panels are grouped together and installed on the sunny side of a roof.
 They have silicone solar cells inside which are made up of two thin layers of silicon that form an electric field. That's because one of layer is positively charged, and one layer is negatively charged.
 Solar energy hits these solar cells and causes the cells to release electrons trapped within the layers of silicon which creates a "DC electric current".
 The DC current is sent through an inverter attached to your solar panels, which changes the current to AC which is the type of electricity that powers most homes.
 After the electric current is converted, it is sent through your home to power appliances in the same way traditional electricity generated from the grid powers your home.
 Any energy home doesn't use can be sent to the electricity grid with solar feed-in-tariff to make some extra money.
Solar Panel Installation Process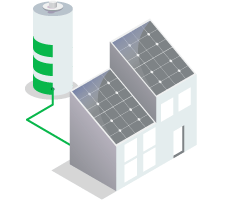 Here's a list of the steps involved in the solar panel installation process:
Reviewing a list of approved solar panel installers from the clean energy council
Getting several installation quotes
Choosing an approved solar panel installer
Submitting a grid connection application for your solar panel system to your energy distributor
Waiting for approval from your energy distributor (usually less than 30 days)
Having the solar panels installed at your home
Choosing a Solar Panel Installer
The Australian government requires all residential solar panels to be installed by an accredited solar installer. Therefore, its important that you properly vet your solar panel installer before going ahead with the installation.
Some things to remember when speaking with your solar retailer include:
Making sure they are Clean Energy Council Approved
Making sure their installers are accredited by the Clean Energy Council
Requesting a custom design and performance estimate for your system & its location
Understanding the terms of cancellation in the event of unforeseen circumstances
Understanding the warranty details for each component of your system
Requesting an additional warranty, after-sales monitoring and repair of the system
For the full list of accredited installers, (and there are dozens available) visit the Clean Energy Council website.
Although you can find the full list at the link above, below we have listed a just few of the major solar panel installers in each major city of Australia.
Solar Panel Installation Sydney
Here's a list of some of the major solar panel installers in the Sydney area:
ADS Solar
Arise Solar
Aussie Hybrid Solar
Beyond Solar
Bradford Energy
EPS
Fair Value Solar
Global Solar World
Green Ultimate Pty Ltd
Hills Solar
Infinite Energy
Isolux Solar
Natural Solar
Origin Energy
Regen Power
RK Solar & Consulting Services
Smart Energy Answers
Solahart
Solaray Energy
Solargain
Solar Galaxy
Solaright
Solar Mission Australia
Solar Ocean
SolarPath
Solarpro
Solar Secure
Solar Vertex
Space Solar
Sun Max Solar
Sync Energ
Solar Panel Installation Melbourne
Here's a list of some of the major solar panel installers in the Melbourne area:
Amazing Solar
Betta Value Renewable Energy
Clean Technology Services
Clipsal Solar
Do Solar
Eco Relief
Essential Solar
Glen Clark & Co
Gnowee Solar
GreenLink Solar
Horizon Solar
Infinite Energy
Life Solar
Lighting Solar & Electrical
LuvSolar
NewGen Solar
Origin Energy
Smart Energy Answers
Solargain
SolarHub
Solar Max Power
Solar NextGen
Solar Spirit
Solar Tactics
Sun Current
Sunrays Power
Sunrun Solar
Teaslec
Tesla Electric
Total Solar Solutions
Todae Solar Melbourne
Trione Energy
Ultimate Solar Energy
Venergy
Solar Panel Installation Brisbane
Here's a list of some of the major solar panel installers in the Sydney area:
Adapt Energy
Apollo Solar
Australian Enviro Projects
Bradford Energy
CSA Services
Ecoelectric
EISS Pty Ltd
EnergyAware
Energy Wise
Essential Energy Solutions
Fallon Solutions
Gem Energy
Goodhew Electrical & Solar
Go Run Solar
Green Solar
Infinite Energy
Keen 2B Green
MC Electrical
Origin Energy
OTI Power
PowerLite Industries
QLD Solar and Lighting
REA Solar
SAW Group
SEM Group
Sky Solar Energy
Solahart
Solar EZE
Solargain
Solar Hybrids
Solar Panels Brisbane
Solenergy Group
Springers Solar
Sunboost
Sunelec
Sunny Sky Solar
Symons Energy
Solar Panel Installation Perth
Here's a list of some of the major solar panel installers in the Perth area:
Anew Solar Panel Repairs
Ascend Electrical
AusBrite Solar Perth
Clean NRG Solar
DNX Energy
Empower Solar Perth
Formula Sun
Fritts Solar
Future Solar WA
German Solar Power
Infinite Energy
Koala Solar
Northern Perth Electrical Solar Panels & Batteries
NOW Solar Group
Perth Solar Force
Perth Solar Power Installations
Perth Solar Warehouse & PSW Energy
Regen Power
Renew Energy Solar Power Perth
Reztech Solar Panel Installations Perth
SMC Energy
Sola Hub Technologies
Solaire Connect
Solargain
Solar Harness
Solar My Home WA
Solar Naturally
Solar WA
SunBoost Solar
Sun Max Solar
Sun Renew Solar
Sync Energy
West Coast Solar
Westsun Solar
Vista Electrical Controls
Solar Panel Installation Adelaide
Here's a list of some of the major solar panel installers in the Adelaide area:
Adam Solar
Adelaide Connections Electrical & Solar
Adelaide Solarsafe
Adelaide Solar Systems
DQ Electrical & Solar
EcoSouth Solar
Electrawise
Energy SA Solar and Air Conditioning
Everyday Electrical and Solar
Exceed Solar
Adelaide Sparks and Solar
Goliath Solar Adelaide
Green Ultimate
Greenaus Solar
Ionics Energy
Infinite Energy
Lightning Solar
Living Energy
NRG Solar
Off-Grid Energy Australia
Origin Energy
SEM Group
Solar Power Direct
Solar Harbour
Solaring
Solar Panels Adelaide
Solar Warehouse Australia
SunBoost
Sunrays Power
Sunterra Solar
SunEnergy
Solargain
Solarlab
Venergy
Submitting your Grid Connection Application
All solar panel systems in Australia are required to undergo revision and approval before they are allowed to be connected to the energy grid.
The body that approves your solar panel installation is your regional energy distributor. Therefore, you must submit a grid connection application to them for approval before having your solar panels installed.
Some questions you should ask your solar panel installer regarding your grid connection application include:
Will you submit the grid-connection application for me or should I?
Is my signature required on the grid connection application form?
Is there a fee to submit the grid-connection application, and if so, is it included in my installation price?
Will you send me a copy of the confirmation that the application has been submitted?
How long will it take to be approved for connection to the grid?
Will I get a refund if my application is rejected?
Will you send me a copy of the grid connection approval?
How Much do Solar Panels Cost in Australia?
Solar PV systems generally cost between $3,000 and $10,000 in Australia, and that price can be lower if government schemes and rebates are applied.
Here is a table showing the average cost of solar panels in each major city in Australia:
Average Solar Panel Cost By City (5kW system)

| City | Solar Panel Cost |
| --- | --- |
| Adelaide, SA | $4,390 |
| Brisbane, QLD | $4,720 |
| Canberra, ACT | $4,690 |
| Darwin, NT | $7,610 |
| Hobart, TAS | $5,870 |
| Melbourne, VIC | $4,850 |
| Sydney, NSW | $4,900 |
| Perth, WA | $3,990 |
*Source: SolarChoice Average Solar Panel Price April 2021
People living in Western Australia enjoy some of the lowest prices for solar panel systems. The average solar panel price in Perth is $3,990.
However, in the Northern Territory, people pay some of the highest prices. The Average price of solar panels in Darwin is $7,610.
However, the ultimate cost of solar panels depends on a number of factors such as:
Solar panel quality
Solar panel brands
Sizes of solar panels
Location of solar panels
All of these factors can drive up the price of solar panels and solar systems. In the example below we show how the size and strength of the solar panel affects the price.
Here is a table showing the average cost of solar panels in Australia based on their power output in kWh:
Average Solar Panel Cost in Australia (Based on kWh )

| Solar System Wattage | Average Cost of Solar Panel |
| --- | --- |
| 3kW | $3,920 |
| 5kW | $4,960 |
| 7kW | $6,580 |
Australian Government Solar Panel Rebates & Grants
Despite increased interest in solar panels, the Australian government has begun to reduce the number of initiatives to switch residents to solar energy. While some residents in some states can still enjoy government-subsidised solar PV, there are fewer rebates now than five years ago.
Small Scale Technology Certificates (STCs)
Small-scale technology certificates are a federal scheme through the Renewable Energy Target, available until 2030, to give customers rebates for their small-scale renewable energy generators. While this can include other forms of renewable energy generation, solar PV is the most common.
STCs represent the amount of energy your solar panels and solar PV system would generate over its lifetime, which offsets what you would otherwise use from the electricity grid. The bigger your solar PV system, and more electricity it generates, the more STCs you'll receive. While you can independently trade STCs, it's much more common for your installer to be assigned the certificates who will then offer you a point-of-sale discount, upfront, to offset the solar system cost.
Solar feed-in Tariffs in Australia
Solar feed-in-tariffs are given to solar energy users who put generated electricity back into the grid. Electricity providers offer different feed-in-tariffs, and here we outline some of the electricity providers offering the highest FiT.
Solar Feed-in Tariffs in NSW

| Provider | Minimum FiT | Maximum FiT |
| --- | --- | --- |
| | 9.5c / kWh | 17c / kWh |
| | 7c / kWh | 20c / kWh |
| | 10c / kWh | 16c / kWh |
Solar Feed-in Tariffs in ACT

| Provider | Minimum FiT | Maximum FiT |
| --- | --- | --- |
| | 10c / kWh | 16c / kWh |
| | 10.5c / kWh | 10.5c / kWh |
| | 8c / kWh | 11c / kWh |
Solar Feed-in Tariffs in VIC

| Provider | Minimum FiT | Maximum FiT |
| --- | --- | --- |
| | 10.2c / kWh | 16c / kWh |
| | 12c / kWh | 13.5c / kWh |
| | 12c / kWh | 13c / kWh |
Solar Feed-in Tariffs in QLD

| Provider | Minimum FiT | Maximum FiT |
| --- | --- | --- |
| | 6c / kWh | 16.1c / kWh |
| | 8c / kWh | 15c / kWh |
| | 6c / kWh | 14c / kWh |
Solar Feed-in Tariffs in SA

| Provider | Minimum FiT | Maximum FiT |
| --- | --- | --- |
| | 10c / kWh | 17c / kWh |
| | 10c / kWh | 16c / kWh |
| | 12.4c / kWh | 16c / kWh |
It might seem like if you have solar panels, you should choose an energy plan with a high solar feed-in-tariff. However, it is common for energy providers who offer high solar FiT have lower discounts on their energy rates.
Need Energy Advice ?
Selectra's energy experts are available to help you free of charge

(Free Selectra Service - Currently open)
Call center currently closed (free service - open Monday to Friday from 10am -7pm)

Speak to a
Selectra energy expert

about all your energy needs !
Depending on your circumstances, you might be better off with a lower FiT and higher discount if you have a smaller solar system that you use more frequently during the day, whereas if you have a large solar system and export a lot of your generated electricity to the grid during the day, you might be better off choosing a higher FiT despite your plan offering a lower total discount.
Are Solar Panels Worth It?
Solar panels and solar PV systems might seem like a big investment, but the benefits can outweigh the costs for most households, and are an easier at-home renewable energy generating system than residential hydropower, biomass or small-scale wind energy.
While it may take anywhere from 5 to 10 years or more to recoup what you spent on your solar PV system, you will start seeing immediate benefits through generating your own renewable electricity, thus reducing your annual electricity costs while doing your part to combat climate change and make Australia greener.
Are solar panels right for your home?
Solar panels can be very expensive, and there are many things to consider before investing in residential solar energy. When shopping around for an accredited solar installer and getting multiple quotes, your installer should discuss all these factors with you before anything else.
 Climate: You need the sun in order to generate solar energy. Thankfully, Australia is the perfect place for solar panels, with an average of 7-8 hours of sunshine per day in the summer.
 Roof: The angle and direction of your roof play a big role in the efficiency of your installed solar panels. The angle of your solar panels should be the same as the latitude of where you live. If you live at a latitude of 40 degrees, for example, your panels should be mounted at 40 degrees. In addition, the direction of your roof matters as well. North-facing roofs are the best, while East or West are only slightly less efficient. Meanwhile, if you have a south-facing roof, you might want to look into other options such as ground-mounted panels.
 Shade: Since solar panels rely on the sun, therefore it makes sense that you won't want to install solar panels if your home is surrounded by trees and buildings that block sunlight. There are ways to install solar panels even if your house has some shade; micro-inverters, rather than a large inverter, attach to the back of each panel and convert solar energy to electricity individually.
What if I can't install a solar PV system?
Maybe you want solar energy for your home, but due to any number of reasons such as housing restrictions, rental agreements, or owning a home not suitable for solar energy, you can't install solar panels in your residence. While this may be frustrating, not all is lost. Community solar energy (also known as offsite solar) can give people the benefits of solar energy without needing to install panels directly on their homes.
With community solar energy, customers can purchase or subscribe to solar panels on a solar farm, and get all the benefits of solar energy in their homes. With community solar energy, customers get the benefit of:
Not needing to worry about factors such as rooftop size and direction, shade, surrounding buildings, or housing restrictions
Not needing to perform maintenance or repairs on solar panels
Allowing those who might not be able to benefit from solar power the ability to access it
Green Power Want to still invest in renewable energy but can't afford to install solar? Green Power is a government-led initiative with Australian companies to allow anyone to invest and commit energy providers to use more renewable energy, for only a few cents per kWh.
Click below to find a better deal for your home!