The National Electricity Market: What is the NEM?

The National Electricity Market (NEM) is the Australian cross-state energy grid, which brings electricity to Queensland, New South Wales, the Australian Capital Territory, Victoria, Tasmania, and South Australia. Below we explain how the NEM works, who governs the NEM, and how prices are set and how energy reaches your home.
What is the NEM in Australia?
Part of Australia runs on a consolidated energy network called the National Electricity Market (NEM).
The NEM ensures energy is generated, traded and transported in a carefully balanced system that aims to supply and match real-time energy demand in the southern states and the east coast of Australia.
Therefore, Depending on where you live, you may receive your energy from the NEM or from your state's energy market instead. In total, the NEM supplies around 80% of electricity in Australia, reaches roughly 9 million customers and manages over 40 thousand kilometres of energy lines.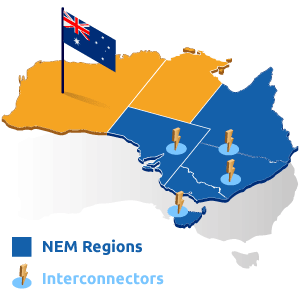 Which States Are Part of the NEM?
The NEM manages energy supply in the following Australian states:
The Northern Territory and Western Australia are not connected to the NEM, however, they have adopted certain aspects of the National Electricity Market.
How Does the National Electricity Market Work?
Electricity in the NEM is regulated by governing bodies that manage energy transactions between generators and retailers. The retailers, or energy companies, then resell the electricity to consumers like you.
The regulatory body, Australian Energy Market Operator (AEMO), chooses which generators will produce the electricity, and then the NEM uses an advanced system to send orders to Generators instantaneously every five minutes. This lets Generators know how much energy they need to produce and allows the NEM to respond to consumer demand in real-time.
Energy generators generate the energy which all goes into a pool to be sold at wholesale prices to energy retailers.
Once the generators have produced the energy via coal or renewable methods of generation such as solar, wind, and hydroelectricity, the energy is converted to high and low voltage for transport over power lines.
Before the energy can be transported, energy retailers bid on the energy which fluctuates in price as supply and demand change regularly. Retailers then sell the energy to consumers for a profit.
Transmission lines (the big power lines) are owned by transmission network service providers and carry the electricity across long distances and between states.
When the electricity reaches its destination, a regional distribution transformer converts the energy from high voltage to low voltage for distribution to homes and businesses for consumption. Electricity Distributor then send electricity into homes and businesses.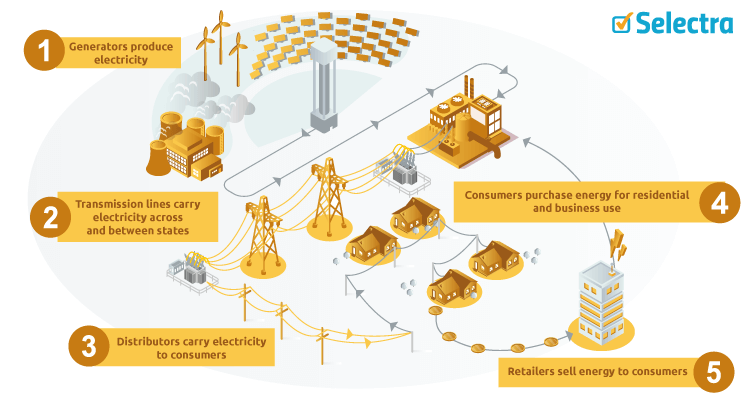 Actors of the National Electricity Market
The National Electricity Market has many different actors that aid in the creation, movement, and sale of electricity, both state-owned and private.
The NEM is made up of the following parties:
Energy Generators
Transmission Network Service Providers
Electricity distributors
Major energy retailers
Energy Ombudsman
All of these players work together to ensure energy continually reaches your home or business without any issues.
1. Energy Generators
Australia has many energy generators within each state that contribute to electricity creation within the NEM.
The largest energy generator within the NEM is Eraring Power Station in New South Wales, which operates as a brown coal generator.
The largest renewable generator, Hydro Tasmania, operates thirty hydroelectric stations, one gas-powered station, and three wind farms.
Four companies in Australia are known as "gentailers", which means they are a "generator" and a "retailer". Gentailers have greater control over their prices as they produce the energy and sell it to consumers
Gentailers in Australia include:
People also generate energy themselves with solar panels.As of December 2018, over 2 million households have solar power energy to some degree. All the small scale residential energy generated and sent back to the grid its tracked and regulated in a register called the Distributed Energy Resources Register.
2. Transmission Network Service Providers
There are 2 parties that transport the energy across power lines and between states:
Transmission Network Service Providers (TNSP)
Interconnectors
TNSPs help transport the electricity at high speeds, while interconnectors link borders of different states.
Australia has five TNSPs, the longest of which is TransGrid in New South Wales and the ACT which covers 13,957 km, as well as six cross-border interconnectors.
3. Electricity Distributors
Regional Energy distributors or Distribution Network Service Providers (DNSP) physically send electricity into residential and business buildings, through lines and wires.
If you have a power outage, or for any other minor emergencies and faults in your energy you should call your DNSP
4. Major Energy Retailers
Energy retailers are more commonly known as energy suppliers, energy providers, power companies, etc.
Energy retailers sell electricity and gas directly to energy consumers.
Retailers purchase energy from the NEM which is then resold to residential homes and businesses.
Australia has over 33 electricity retailers within the NEM, divided into three categories
5. Energy Ombudsman
The energy ombudsman is a free dispute resolution service that intervenes and mediates disputes between energy consumers and energy suppliers/distributors.
The energy ombudsman offers advice and mediation free of charge and is a source of impartial advice for consumers needing assistance with their energy related needs.
Who Controls Prices in the NEM?
Pricing within the NEM has several components:
Generators supply and demand
Retailer contracts and pricing
The reference price
When consumer demand for electricity in the NEM increases, the NEM raises how much it will pay for generators to make more energy. This is known as the Spot price. The spot price is measured once every five minutes, and the average of that is taken every half hour. This is not, however, the price consumers pay for electricity.
Retailers are able to provide more stability in pricing than the Spot market allows because they are able to make contracts with generators that last a year or more, which control the prices retailers pay for the year. This then gets passed onto consumers, who enjoy stable energy prices.
The NEM also assists consumers by offering the the reference price which is a price that retailer must base their prices on, with the exception of LPG gas, where price is internationally benchmarked. The reference price is often called the Default Market Offer (DMO) or Victorian Default Offer (VDO) and is considered the cap price for electricity.
Electricity providers must disclose how much more or less their offer is when compared to the reference price. The DMO/VDO is also the default to which all customers on standing retailer offers were switched, in order to protect consumers from hiking electricity costs.
*Source: Victorian Essential Services Commission, January 2020. Prices based on average annual usage of 4,000kWh/year
Who Manages the NEM?
The NEM is managed by three regulatory bodies:
Australian Energy Market Commission (AEMC)
Australian Energy Market Operator (AEMO)
Australian Energy Regulator (AER)
These energy regulators assist in governing the entire electricity market in Australia and play a large role in the NEM ensuring it runs smoothly in all participating jurisdictions.
Australian Energy Market Commission (AEMC)
The Australian Energy Market Commission (AEMC) is the body that makes the national electricity rules and rules regarding the NEM.
The AEMC consists of commissioners appointed by each state and territory as well as one national commissioner.
The Australian Energy Market Commission gets its powers from the National Electricity Law, the National Gas Law, and The National Energy Retail Law, under which it makes and amends the National Electricity Rules, National Gas Rules, and National Energy Retail Rules.
In addition to making rules, it also advises on energy policy with lawmakers in Australia.
Australian Energy Regulator (AER)
The Australian Energy Regulator (AER) enforces the rules set out by the Australian Energy Market Commission, as well as wholesale economic regulation, for both gas and electricity in Australia.
It regulates revenues received by transmission network service providers, as well as distribution network service providers, and ensures compliance is met.
When compliance with the electricity and gas laws are not met, the AER conducts investigations and enforcement proceedings.
Australian Energy Market Operator (AEMO)
The Australian Energy Market Operator (AEMO) oversees the retail market, as well as managing the NEM and Victorian Energy Network Corporation (VENCorp), and overseeing retail contestability.
The Australian Energy Market Operator is made up of six different entities:
National Electricity Market Management Company (NEMMCO)
Victorian Energy Networks Corporation (VENCorp)
Electricity Supply Industry Planning Council (ESIPC)
Retail Energy Market Company (REMCO)
Gas Market Company (GMC)
Gas Retail Market Operator
Click below to find a better deal for your home!