Telstra Internet & Mobile: Reviews & Plans 2023

Sign Up Now
---
Telstra is the largest and oldest telecom provider in Australia with a 100-year track record. Known for having the fastest and widest network coverage in Australia, they are also one of the major drivers of the National Broadband Network. Read on to see what Telstra have to offer, including Telstra mobile phone plans, broadband offers, and customer reviews.
Overview of Telstra
Telstra is an Australian mobile and internet provider. However, it also happens to be one of the oldest and largest telecommunications providers in Australia.
Telstra has a 100+ year legacy since its founding in 1901. Since its privatisation in the '90s and early 2000s, Telstra went on to become the largest private telecommunications provider in Austria and is one of the most widely held companies on the ASX.
Thanks to its history, it's considered one of the most reputable mobile companies in Australia and provides most of the network used for used by the NBN and other mobile phone providers in Australia.
Telstra touted its prowess in its 2021 Annual Report:
We continue to lead the NBN market with a total of 3.5 million NBN connections, an increase of 246,000. Our NBN market share is now 45 per cent (excluding satellite) with the migration to NBN now around 90 per cent complete.
What Does Telstra Offer?
Tesltra offers the following services:
Telstra Coverage in Australia
The Telstra mobile network is the biggest mobile network in Australia.
Their 3G & 4G network is so vast that it reaches 99% of the Australian population. Telstra is also the main proponent of 5G network infrastructure in Australia. As of June, 2021, 75% of Australians have access to the Telstra 5G network in their local area.
Telstra 5G CoverageTelstra has 5G coverage in over 2,700 suburbs and 200+ cities and towns throughout Australia.
The majority of Telstra's coverage is centred around the east and west coasts of Australia, but they also offer more coverage than other network providers in the Northern Territory.
Telstra Network Coverage Map
Here is a map showing Telstra's 5G, 4G, & 3G coverage areas in Australia.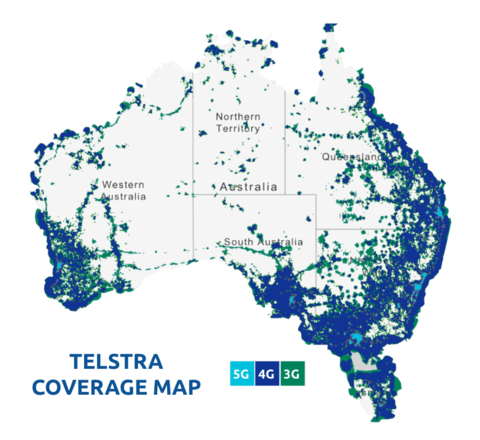 Several companies use the Telstra network to offer mobile coverage to their customers.
Here is a list of companies that run on the Telstra Network:
Numobile
Pennytel
Think Mobile
This means that if you sign up to one of these mobile providers, you will have coverage wherever Telstra customers have coverage.
If you live in a rural area, Telstra also offers their "Blue Tick" phones which are certified by Telstra to offer superior coverage.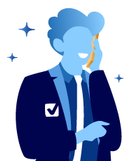 Looking for Broadband & Mobile Deals?
See exclusive online offers from Southern Phone! Compare NBN plans and providers.
Telstra Reviews
Here is a list of Telstra's Pros & Cons as a telecom provider:
Telstra Pros & Cons
Telstra Mobile Review: Pros
Fastest network in Australia
Most extensive coverage in Australia
100 year track record as a phone company
No lock-in contract or Overage charges
Many different device & plan options
Telstra Mobile Review: Cons
Poor customer satisfaction reviews
No low-cost 5G plans
Not always the best value vs. resellers
Prioritises customers wanting premium plans
Pre-paid plans offer very low value
Although Telstra is the fastest and largest mobile and internet service provider in Australia, it has surprisingly negative customer reviews.
In this section, we will take a look at what real customers have mentioned in Telstra reviews around the web to give you a better understanding of where the company goes wrong.
Here is how customers rate Telstra around the web:
Product Review: 1.5 / 5 stars
Trust Pilot: 1.2 / 5 stars
Facebook Reviews: 1.2 / 5 stars
As you can see from the compilation of customer ratings above, the general consensus leaves Telstra with an overall average rating of 1.3 stars out of 5. Translated to a percentage, Telstra has a 26% customer satisfaction rating.
It's clear to see that Telstra reviews leave the company quite low versus other service providers. Let's see what customers complain about most often.
The majority of negative reviews centre around long call wait times and complaints that are left unresolved for long periods of time.
One Telstra customer left the following review which summarises many others we saw:
I have a business account with Telstra. TERRIBLE service!!!.. Business account set-up without allowing me to access account. Waited hours to get in touch with customer service. Sent requirements. And viola, 2 weeks later. Still unresolved. Said would call me, asked for a time. AND NEVER CALLED!!! If only my area is serviced by other providers would switch in a snap!
– John (Perth, WA)
We saw other reviews that corroborated this opinion, with one customer saying Telstra "operated as if it were a monopoly".
Other customers mention issues with the sign-up process and receiving support after registering online.
A customer named Ant from Sydney left the following Telstra review:
Do not buy online through Telstra. Phone still not delivered 2 weeks later and only Bots to assist or support failure to fulfill the sale. Much wiser to go into retailer store or purchase through a capable online retailer.
– Ant (Sydney, NSW)
These customer complaints are echoed over and over in Telstra reviews around the web, such as this Telstra review from a customer entitled "very disappointed":
Called Telstra, I waited hours to get something resolved and nothing was resolved, didn't call back and from and from what it looks like… they don't care about customer service
– Very Disappointed (Perth, WA)
Almost all of the negative reviews we saw mention customer service and long wait times.
In fact, in a November 2020 report issued by the ACCAN, researchers found Telstra customers spent an average of 1 hour and 12 minutes on the phone seeking a resolution to their issues.
See more in the table below:
Telstra Customer Service Wait Times

| Telstra Call Centre Statistics | Time |
| --- | --- |
| Average time on Hold | 15:06 |
| Average length of call | 30:06 |
| Total average time on phone with provider* | 1:12:14 |
*Total based on the average number of calls to provider
Another report from the ACCAN in 2018 found that Telstra customers spent an average of 15.4 days seeking a resolution to their complaints.
Still, we did see positive Telstra reviews mostly centred around customer experiences in Telstra shops around Australia.
Lorrain Nicholls left this Telstra review about her in-store experience:
Popped into Frankston Telstra yesterday with issues with my emails, was lucky enough to have Adrian help me out, he went above and beyond to ensure that my problem was rectified, nothing was too much trouble for him.....'So a big shout out to you Adrian' You're an absolute asset to that store :)
– Lorraine Nicholls (AU)
This sentiment was echoed by many customers who visited Telstra's physical locations around Australia.
While it's always helpful to read about other customers' experiences, at Selectra we always recommend doing your own research before making a purchase.
We can summarise Telstra reviews as follows:
They have great coverage and a fast network.
Their customer support over the phone is slow and tedious and may take several days to resolve your issue.
Their wide network of physical locations is an asset to the company and customers as they offer quick and friendly service that the call centre does not.
Telstra Mobile Plans
Apart from a vast 4G & 5G network, Telstra offers several different types of mobile plans including:
Prepaid plans
SIM Only Plans
Mobile phones + plans
With Telstra prepaid mobile phone plans, you can choose the length of expiry period and the amount of data and calls you want. You can also opt to contract a new phone and mobile plan with their month-to-month plans + mobile, or bring your own device and simply purchase a SIM card only plan.
Let's have a look at these mobile plans in greater detail.
Telstra Mobile Plans
Prepaid Plans

Pay ahead & recharge later
Choose your data allowance
Get Telstra 4G or 5G Plans
Unlimited call & texts in AU
Get Continuous data rollover


See Plans
SIM Only Contracts

Bring your own device
No data overage charges
Get Telstra 4G or 5G Plans
Unlimited call & texts in AU
Unlimited international SMS


See Plans
New Device + Plan

12, 24, or 36-month financing
You can keep your number
Get Telstra 4G or 5G Plans
Unlimited call & texts in AU
No data overage charges


See Plans
Telstra Prepaid Plans
Prepaid mobile phone plans are a great choice if you don't want to be locked into a mobile phone plan.
You can sign up for your Telstra prepaid plan online by choosing a prepaid SIM starter kit and either bringing your own unlocked device or buying a prepaid phone.
You can order your Telstra mobile SIM card online. The SIM will be delivered to you for free within 3-7 business days and can be activated online with a valid ID and bank card.
All plans come with continuous data rollover, unlimited calls and texts to standard Australian numbers.
Telstra SIM-only Plans
Telstra's new SIM-only mobile plans allow you to bring your own phone and enjoy a no lock-in, month-to-month mobile phone plan on the Telstra network.
With Telstra's SIM-only plans you get:
Autopay: Set up a direct debit with your bank card or account for monthly upfront payments
No more bills, just a receipt when the payment is processed
Data sharing across 10 Telstra plans on the same, eligible account
Unlimited standard national calls and texts
30 minutes of standard calls to overseas numbers
Unlimited standard SMS and MMS to overseas destinations
Telstra Phones
Telstra offers all the latest phones available to purchase outright or pay off in 12 or 24 months instalments. If you choose a Telstra phone with a plan, your monthly phone payments are interest-free. Telstra mobile phones with a plan are the same as their SIM-only plans (shown above), however, you get the additional benefits of:
Data-free streaming with Apple Music (subscription not included)
Telstra Air Wi-Fi for free
50% more Telstra Plus Membership Rewards
Telstra Internet Plans
Telstra offers a wide variety of home internet plans, no matter the connection type available at your address.
If you already have NBN available, you can choose between Telstra NBN or get a little more with a Telstra NBN bundle. If you don't yet have NBN available to your home, Telstra's cable broadband and ADSL come NBN-ready so you don't need to worry about switching over to faster broadband.
Telstra Mobile Broadband & Data-only SIMS
Telstra's SIM-only mobile broadband plans offer flexibility if you're looking for month-to-month broadband for your tablet, computer, or mobile hotspot device. With no lock-in contract, and no excess data charges, these plans can be added to one of Telstra's broadband devices or you can bring your own.
Discover Telstra Internet Plans
Telstra Contact Methods
You can also contact Telstra customer service using:
You can call Telstra customer care is available 24/7 at: 13 22 00.
You can also download the mobile app (Apple / Android) and request assistance via your online account.
You can register for an online account here: Register for a Telstra account
For a fee, you can also register for a Telstra Platinum Tech Support to receive access to 24/7 extended technical support service.
Telstra Platinum includes:
Online & Phone support
Assistance to tech experts in Telstra stores
Personal help and training on using the internet, printers, email, webcams, etc.
Remote access help & software support
A guarantee that if they don't fix your problem, you won't need to pay.
The Telstra Platinum contact number is 13 75 87 and they are available 24 hours a day.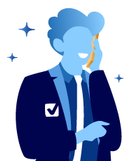 Need to help finding a better broadband plan?
Yomojo has fast home broadband with no installation! Online in Minutes!
How to Sign up With Telstra
You can sign up for Telstra over the phone by calling 13 20 00.
You can also sign up online at telstra.com.au.
When signing up for any service with Telstra, you will be required to perform a credit check and provide valid identification.
This can be one primary form of ID:
Valid Australian passport
Drivers license
Other valid licenses
Plus two secondary forms of ID including:
Medicare card,
Australian government-issued benefits card
Birth certificate
Find a full list of accepted identification online.
Click below to find a better deal for your home!
Read more articles about Telstra