Telstra is a historic telecom provider in Australia, and one of the major retailers of the National Broadband Network. Continue reading for more information about Telstra and what they have to offer, including Telstra mobile phone plans, broadband offers, and tech support. Is Telstra right for you? Read all about Australia's mobile and broadband providers to find out!
Overview of Telstra
Telstra is one of the historic telecommunications providers in Australia. Telstra was originally founded in 1975 as the Australian Telecommunications Commission which was a government-owned, domestic telecommunications subdivision of the Postmaster General's Department. The Australian Telecommunications Commission merged with the Overseas Telecommunications Commission in 1993, and in 1995 was uniformly branded as Telstra.
Between 1997 and 2011, Telstra slowly became more and more privatized, in stages, as the Australian government sold off its shares. With more than one million shareholders now, Telstra is one of the most widely held companies on the ASX.
Telstra is one of the biggest owners of fixed-line infrastructure in Australia, and much of the hybrid fibre-coaxial network technologies used by the NBN are from Telstra's HFC network. Telstra owns 51% of the NBN market share as of 2018, and together with Optus and TPG these three telecom companies own 83% of the total NBN market.
Telstra's mobile network is one of three available in Australia, alongside Optus and Vodafone.
Telstra coverage in Australia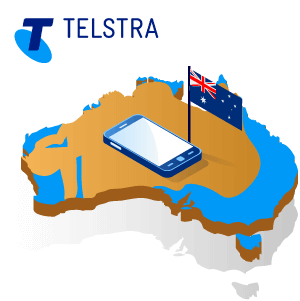 Telstra is one of the biggest network providers in Australia, covering 99% of the population with 3G and 4G coverage. The majority of their coverage is centered around the east and west coasts, but they do offer more coverage than other network providers in the Northern Territory.
Telstra is currently rolling out both 4GX and 5G coverage in small pockets, across major cities in Australia. By 20204, Telstra plans to suspend all 3G network availability with plans to establish 4G coverage in all areas currently covered by 3G. Telstra's new 4G coverage will be similar in reach and size as their current 3G network. After the switch, you will need a 4G-enabled phone in order to continue to access the Telstra Mobile Network.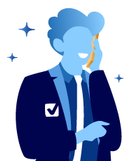 Looking for Broadband help?
Our Broadband Experts can help you Monday to Friday 9am to 8pm, and Saturdays from 9am to 4pm.
Telstra mobile phone plans
No matter what type of mobile phone plan you want, Telstra has it available. With Telstra prepaid mobile phone plans, you can choose the length of expiry period and amount of data and calls you want, while you can opt to contract a new phone and mobile plan with their month-to-month plans + mobile.
Telstra prepaid plans
Telstra prepaid mobile phone plans are a great choice if you don't want to be locked into a mobile phone plan. You can sign up for your Telstra prepaid plan online by choosing a prepaid SIM starter kit and either bringing your own unlocked device, or buying a prepaid phone.
Your SIM will be delivered to you for free, within 3-7 business days and once it's delivered you can activate your SIM card online. Choose the Telstra prepaid plan you want, enter your SIM serial number, service details, and valid ID, and your payment details.
Telstra prepaid mobile plans
2GB
25GB
(10GB + 15GB bonus)
35GB
(20GB + 15GB bonus)
43GB
(28GB + 15GB bonus)
53GB
(38GB + 15GB bonus)
60GB
150GB
$10 / 7 days
4G Network
$30 / 28 days
4G Network
$40 / 28 days
4G Network
$50 / 28 days
4G Network
$60 / 28 days
5G Network
$150 / 6 months
4G Network
$300 / 12 months
4G Network
Telstra prepaid mobile plans come with included data, plus bonus data on your first three recharges. In addition, all plans come with continuous data rollover, unlimited calls and texts to standard Australian numbers, and (excluding the 2GB plan) international calls and texts to selected countries.
If you don't use your phone that much, a Telstra prepaid mobile casual plan might be a better choice. These casual prepaid plans are all available on the Telstra 4G network, and come with a limited number of call minutes and texts as well as international calls and texts to selected countries.
Telstra prepaid casual plans
$20 / 45 days
$30 / 6 months
$50 / 6 months
$70 / 12 months
$100 / 12 months

150MB
80 call minutes
50 texts

300MB*
80 call minutes
100 texts

500MB
120 call minutes
150 texts

700MB
200 call minutes
200 texts

1GB
300 call minutes
300 texts
*300MB plan is currently available online for $15
Telstra SIM-only plans
Telstra's new SIM-only mobile plans allow you to bring your own phone and enjoy a no lock-in, month-to-month mobile phone plan on the Telstra network. With Telstra's SIM-only plans you get:
Autopay: Set up direct debit with your bank card or account for monthly upfront payments
No more bills, just a receipt when the payment is processed
Data sharing across 10 Telstra plans on the same, eligible account
Unlimited standard national calls and texts
30 minutes of standard calls to overseas numbers
Unlimited standard SMS and MMS to overseas destinations
Telstra SIM-only plans
Small
Medium
Large
Extra Large
40GB / $55 per month
4G Network
80GB / $65 per month
5G Network
120GB / $85 per month
5G Network
180GB / $115 per month
5G Network
You can also choose to purchase one of Telstra's mobile phones, including the latest on the market, to add to one of their plans. If you choose a Telstra mobile phone on a plan, you can pay it off outright, or choose a12 or 24 months interest-free plan when you add one of Telstra's mobile plans.
Telstra phones
Telstra offers all the latest phones available to purchase outright or pay off in 12 or 24 months installments. If you choose a Telstra phone with a plan, your monthly phone payments are interest-free. Telstra mobile phones with a plan are the same as their SIM-only plans (shown above), however, you get the additional benefits of:
Data-free streaming with Apple Music (subscription not included)
Telstra Air Wi-Fi for free
50% more Telstra Plus Membership Rewards
Telstra mobile broadband & data-only SIM plans
Whether you have a tablet you want to connect to the internet on the go, or want portable broadband to work on your computer from a coffeehouse or in the park, Telstra offers many different data-only solutions to make sure you're connected to the internet no matter where you are.
Prepaid Telstra mobile broadband
Prepaid mobile broadband is a great option if you want to connect to a portable mobile hotspot. You can choose between one of their prepaid SIM-only mobile broadband plans, or purchase one of Telstra's prepaid mobile broadband devices with included data.
Telstra prepaid mobile broadband (SIM-only)

| 12GB* | 40GB | 180GB | SIM only |
| --- | --- | --- | --- |
| $30 / 28 days | $150 / 12 months | $300 / 12 months | $2 |
*Online only, get 12GB for $15 with 28-days expiry period
Telstra mobile broadband device starter kits
USB Modem
4GX Hotspot
4GX Wi-Fi Plus
3GB included
Device total: $49
20GB included
Device total: $139
5GB included
Device total: $69
Data-only SIMS with Telstra mobile broadband
Telstra's SIM-only mobile broadband plans offer flexibility if you're looking for month-to-month broadband for your tablet, computer, or mobile hotspot device. With no lock-in contract, and no excess data charges, these plans can be added to one of Telstra's broadband devices or you can bring your own.
SIM-only Telstra mobile broadband plans
Extra Small
Small
Medium
Large
5GB for $15
4G network
20GB for $25
4G network
60GB for $50
5G Network
200GB for $75
5G Network
Telstra home internet
Telstra offers a wide variety of home internet options, no matter the connection available at your address. If you already have NBN available, you can choose between Telstra NBN or get a little more with a Telstra NBN bundle. If you don't yet have NBN available to your home, Telstra's cable broadband and ADSL come NBN-ready so you don't need to worry about switching over to faster broadband.
Telstra NBN & NBN bundles
As one of the biggest telecom providers in Australia, Telstra offers NBN services to customers across the country. With Telstra NBN, you get:
$0 connection when you sign up online
Telstra Smart Modem with 4G backup if you stay for 24 months
Phone line with calls
Telstra Plus rewards for members
Telstra NBN plans
25Mbps
50Mbps
100Mbps*
500GB of data
2-3 people
$75 / month
Unlimited data
5-7 people
0 / month
Unlimited data
6-9 people
$100 / month
*Choose superfast NBN (230Mbps) or Ultrafast NBN (700Mbps) for an additional cost when you sign up with Telstra NBN 100Mbps
Telstra NBN bundles

| Telstra TV + 500GB data | Xbox All Access + 500GB data |
| --- | --- |
| Telstra TV with the latest movies and 4K HDR streaming | Xbox One S console with 4K Ultra HD streaming including 100+ games |
| $84 / month | $102 / month |
Telstra cable or ADSL broadband
If you have a cable or ADSL broadband connection, Telstra has you covered with their NBN-ready cable or ADSL broadband plans. Telstra offers two broadband connections, with either 500GB per month for $75, or unlimited data every month for $80 per month. With Telstra broadband, you get:
$0 Telstra Smart Modem when you stay for 24 months
Phone line + calls included
Discounted international calls
No connection fee when you sign up online
NBN ready - when NBN is available at your address, switch seamlessly
Telstra Platinum tech support
Telstra gives customers the option to sign up for Telstra Platinum, a 24x7 technical support service. Telstra Platinum includes in person support of both Telstra and non-Telstra devices, as well as phone support, and remote access help, with a guarantee that if they don't fix your problem, you won't need to pay. Telstra offers Telstra Platinum as a one-off support option ($30 to $90 at a time), a subscription service ($10 or $15 per month), as well as an in-home service for setting up devices, or support for when there's an issue. Telstra Platinum can be reached by calling 13 75 87, 24 hours a day.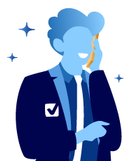 Need to speak to someone about your broadband plan?
Our Broadband Experts can help you Monday to Friday 9am to 8pm, and Saturdays from 9am to 4pm.
Telstra contact 24x7
Telstra customer service is available 24x7 by calling 13 22 00 which can be used for general inquiries, technical support, to pay your bill, and more. 
How to sign up with telstra
When signing up for any service with Telstra, you will be required to perform a credit check and provide valid identification. This can be one primary form of ID (valid Australian passport, drivers license, or other valid licenses) plus two secondary forms of ID (including medicare card, Australian government-issued benefits card, or birth certificate) or two primary forms of identification. Find a full list of accepted identification online.
The Australian government requires all prepaid mobile phone services to have a valid ID, as well as a residential address, and you may be required to provide the number of any other prepaid phone service you have if you pay by credit card. If you do not use a bank card, or have more than five prepaid phones in use, you may be asked for additional identification. Providers can verify identification through an online verification service, financial transaction, existing postpaid account, or a visual document check. More information can be found on the Australian Government website.
You can sign up online for any of Telstra's services, or call one of the numbers below.
Phone Numbers to Call to Subscribe to Telstra

| Subscription | Phone Number |
| --- | --- |
| Mobile Phone Subscription | 1800 676 642 |
| Broadband Subscription | 1800 709 957 |
| Landline / Entertainment Subscription | 1800 676 088 |
Call us to find a better deal for your home!
Read more articles about Telstra