Compare Energy Plans NSW - See 2022 Results

Are you shopping around for a new energy plan in New South Wales? – Need a hand? Below, we compare energy plans in NSW based on the following categories: Cheap energy plans, 100% carbon neutral plans, wholesale electricity plans, solar feed-in tariffs, and more.
---
Before we get to the results: Let's take 2 seconds to show you how to compare energy plans.
You can also skip ahead to the results if you prefer.
How to Compare Energy Plans in NSW
While most households tend to look for the cheapest energy rates when comparing energy plans, that isn't the only thing you should consider.
When you go to compare energy plans in NSW, you should look at:
The Provider:
You may find plans with the same rates offered at 2 different energy providers. Consider the provider's reputation & customer service track record before deciding on a plan.
Energy Rates:
Your energy rates are divided into daily supply charge (the fixed cost of supplying electricity to your home) and usage rates (the cost of your energy in either c/MH or c/kWh)
Type of Tariff:
While the comparison of plans above compares singe-rate tariffs, depending on your energy habits your household might be better off choosing a time of use tariff or a controlled load. Note - These tariffs might require a smart meter.
Reference Price:
All electricity plans in NSW are required to show how much less (or more) they are compared to the government-set reference price which is a tool you can use to compare energy plans. Find more information in our Reference Price guide.
Benefit Period:
The benefit period of your energy plan is how long your energy plan is valid, after which you might be switched onto a more expensive Standing Offer. Benefit periods are usually either ongoing or between 12-36 months.
Now that you know what to look for when comparing plans in NSW, it's time for us to show you our picks for the best energy plans by category.
Our Comparison of NSW Energy Plans by Category
Below we compare the following energy plans in New South Wales:
Select one of the categories above to jump ahead to that section or keep reading below to compare energy plans in NSW.
1. Compare Solar Feed-in Tariff Plans in NSW
Below, you can compare energy plans in NSW with the highest solar feed-in tariff.
If you have solar panels (or are looking to invest in solar energy), comparing solar feed-in tariffs is just as important as choosing a cheap energy plan.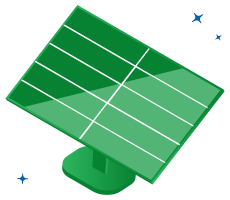 The solar energy market is changing, as the cost of solar panels decreases and more and more residential homes invest in solar. As a result, most energy providers' solar feed-in tariffs are being reduced and those that do offer higher feed-in tariffs often come with other conditions or limits.
In addition, it's always important to compare your solar exports and what you can expect from your solar feed-in tariff compared to the discount off the reference price. Many energy plans with higher solar credits come with a lower (or no) discount off the reference price.
Not sure if you should get a higher feed-in tariff with a lower discount, or a lower feed-in tariff with a higher overall discount? Learn more with our Solar Feed-in Tariff guide.
2. Compare Online-Only Energy Plans in NSW
Here is our pick of the best online-only energy plans in NSW:
When comparing energy plans, you'll often find that 100% online energy plans are amongst the cheapest.
100% online energy plans are, as the name suggests, 100% online. This means you agree to:
Only contact your energy provider via online means. This could be via email, Live Chat, or your energy providers' online account management system.
Only manage your energy account using your energy provider's website or app
Direct debit and eBilling only
For the technologically savvy, choosing an online energy plan could save you a bit on your energy bills. However, the downside is that if you need to contact your energy provider quickly, you don't really have the option of calling them by phone.
3. Compare Wholesale Energy Plans in NSW
Most electricity providers purchase energy at wholesale rates from energy generators and then, in turn, sell it at a higher rate to you in order to make a profit.
However, there are a couple of energy providers in New South Wales which offer you, the residential customer, access to these wholesale electricity rates, often in exchange for a fixed monthly membership fee.
The three energy providers in NSW that offer wholesale electricity rates are:
It's important to note that when comparing wholesale electricity rates, the estimated annual cost needs to be treated with caution. The nature of the wholesale electricity market is that prices fluctuate due to supply and demand, and your electricity rates are not guaranteed.
Since wholesale electricity providers usually don't profit from your usage and instead make their money off of membership fees, they have no stake in your household consuming more energy. As a result, they often offer ways (such as through their app) to warn you when these electricity rates are high so you can power down non-essential appliances and reduce your energy consumption.
When it comes to wholesale electricity providers, and choosing an electricity plan with wholesale rates, this might not be for everyone. However, if you're savvy and flexible with your electricity consumption, and don't mind managing your energy habits around fluctuations in the market, you could stand to save quite a bit of money on your energy bill with wholesale rates.
4. Compare 100% Carbon Neutral Energy Plans NSW
Below, we compare energy plans in NSW with 100% carbon offset or, find our list of Greenest Electricity Providers to discover more green energy options.
It's an obvious notion that choosing a green energy provider is positive for the environment and Australian renewable infrastructure. However, many energy providers make false claims regarding how green they are. This can make it hard to find aa supplier that is truly green.
For this reason, the providers listed above offer 100% carbon-offset energy guaranteed at no additional cost to you. You can often include GreenPower on top of it as a personal choice.
Most energy providers offer GreenPower as part of their standard energy plans. This can range from 10% GreenPower (10% of your energy usage is offset) up to 100% GreenPower (100% of your energy usage is offset) often at a small additional cost to the consumer. GreenPower is an Australian-specific carbon offset program.
Origin Energy Green Gas Did you know? For an additional $1 per week, you can offset your natural gas consumption with Origin Energy Green Gas.
What Options for Energy Providers do I Have in New South Wales?
The comparison of energy plans above is only a small selection of all energy providers in New South Wales.
Below is a full list of energy providers in New South Wales:
Bright Spark Power
CovaU
Electricity In A Box
Future X Power
GEE Energy
Glow Power
Kogan Energy

Pooled Energy
Powerdirect
Radian Energy
Smart Energy
Social Energy
Selectra does not compare all energy providers on the list and certain providers might not be available in all locations. We encourage you to do your own research when switching energy providers.