Click Energy Contact: Phone, Email, and Postal Address

Click Energy, now owned and operated by Amaysim, is another energy company following the trend of conducting most business online. Whether you need to contact Click Energy to subscribe to a new plan, move house, or pay a bill, continue reading below to find out how. 
Click Energy contact numbers
Customers looking to contact Click Energy over the phone can do so during normal weekday work hours. Depending on the question, the phone number for Click Energy customer service can change, as well as the hours available. It's important to note that while you can contact Click Energy by phone, they are a predominantly online energy provider and you might have better luck with Click Energy online chat or online form. 
Sales and Moving -

1300 669 432

available 8am to 6pm weekdays
Customer Service -

1800 775 929

available 9am to 5pm weekdays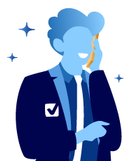 Want to Switch to a New Energy Provider?
Speak to an agent or see more plans for free !
Best time to call Click Energy customer service
Click Energy customer service is available from 9am to 5pm, while Click Energy sales and moving are available 8pm to 6pm during the week. Customers can usually expect a wait time if they call Click Energy however, as only approximately half of all calls are answered within 30 seconds and the average wait time for calls can exceed two minutes. Since Click Energy is mostly online, though, they do offer Click Energy online chat where your questions may get answered more quickly.
Contact Click Energy for emergency or outage
If there is a life-threatening emergency dial emergency services 000
For all electricity and gas emergencies, including disconnection, outage, failure, or smell of gas, contact your electricity or gas distributor. Your energy distributor is in charge of fixing and maintaining the energy grid. It's important to know your energy distributor, not only in case of emergency but because your energy distributor will often report known outages and scheduled repair on their website so you can stay informed. The number for your energy distributor can be found on your energy bill or online under your state or territory and postal code.
Click Energy email and postal address
Click Energy offers two email addresses for customers to contact Click Energy customer service. Customers with sales questions about plans or services can email Click Energy at [email protected] while customer service enquiries, including account help or complaints, can be emailed to [email protected]. Postal mail, including forms, applications, or complaints can be sent to:
Click Energy
Level 1, 90 Collins St
Melbourne VIC 3000
Contact Click Energy to pay my bill
Click Energy has a number of methods for paying an energy bill, which are predominantly online.
Direct Debit - You can set direct debit up online in order to set and forget your payments
Online - Through Click Energy's secure payment form, customers can pay a Click Energy bill with a valid bank card and account reference number
Phone - Customers can dial

1800 775 929

in order to pay their Click Energy bill over the phone
BPAY - Contact your local financial institution with your account reference number and BPAY code found on your Click Energy bill
If you're experiencing financial hardship, for whatever reason, it's best to contact Click Energy immediately to discuss your options, in the event you can't pay your energy bill. Depending on your situation, you could be given a payment extension, organize a payment plan with Click Energy, or apply for government concessions or rebates you might be eligible for.
Contact Click Energy to Subscribe to an energy plan
Customers looking to subscribe to an energy plan with Click Energy are able to do so online. Customers will need to provide information including a valid form of identification and the connection address, and can expect a credit check before receiving their new plan. Customers with questions about Click Energy plans can call their sales team at 1300 669 432 during the week from 8am to 6pm.
Move house with Click Energy
Existing Click Energy customers can contact Click Energy to move house online to ensure there is no interruption to their energy service. New customers can also plan their move with Click Energy online when signing up. New customers just need to choose if their connection address is an existing connection or a new house. If you're moving within two business days, call 1300 669 432 between 8am and 6pm weekdays for urgent connections.
How to contact Click Energy from overseas
Click Energy does not provide an international number to use when calling from overseas. However, customers abroad can send Click Energy an email with their enquiry for customer service or sales. Click Energy online chat support is also available during working business hours (AEST) so you can contact Click Energy from anywhere in the world.
Need Energy Advice ?
Selectra's energy experts are available to help you free of charge

(Free Selectra Service - Currently open)
Call center currently closed (free service - open Monday to Friday from 10am -7pm)

Speak to a
Selectra energy expert

about all your energy needs !
Click Energy complaints resolution
If, for whatever reason you are dissatisfied with your service with Click Energy, you can always submit a complaint. Click Energy has two channels for submitting complaints, either over the phone or by email. Once you submit a complaint, it will either be resolved within 10 business days, or escalated to a Team Leader. It's important to remember that if you're dissatisfied with the resolution of the complaint, you can also contact your state's Energy and Water Ombudsman to act as an impartial intermediary.