Free Rental Application Form: PDF Template & How To Guide

You'll want to prepare your rental application before you start looking for a rental home and well before you prepare to move! Find out everything you need to know about the rental application process below. Learn what to include in your rental application cover letter, and how to make your profile shine through so you get chosen for the best rental properties.
---
✍ Printable Rental Application Form / TemplateDownload & print you free rental application form / template here!
Free Download PDF
What is a Standard Rental Application?
A rental application form is a document you must fill out as a formal request to rent a property.
A rental application form, also known as an apartment application, is a tool for tenant screening to help property managers and property owners choose the best prospective tenants for their property.
It's important to note that a rental application process must be completed before you sign a tenancy agreement. In addition to the rental application form, you should include additional documents to make your application stand out.
These documents need to reassure the property management officer or landlord of your candidacy and show them you would be a good tenant.
Include the following points about yourself in your rental application:
You have a stable income
You have rented before (or have a reference)
You will pay your rent on time
You're a courteous neighbour
You will respect their property and leave it in good condition
The more information you include, the more you'll stand out as a better tenant and have a higher chance of getting the rental home you want.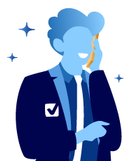 New House? – Get set up now!
Set up utilities at your new home in just one click!
What Should be Included in a Rental Application?
In addition to your rental application form, which outlines all the basic details of you and your life (income, employment, education, and rental history) there are other supporting documents you should include.
You should include the following information in your rental application:
Rental Resume
Rental Application Cover Letter
Work Reference Letter
Character / Rental Reference Letter
Payslip or Proof of Income
Rental History
Pet Information
Photo ID
 Rental Resume:
Consider compiling a rental resume to bring with you to rental properties and apartment viewings. A rental resume should contain all the basic information a property manager might want to know about you, including: personal and contact details, education, current employment status and salary, rental history, and references. Bring a printed copy of your rental resume to each apartment viewing, so you can give it to the property manager straight away when you find a place you like.
 Rental Application Cover Letter:
This should include more about who you are, who will be living on the property, and why you're the best potential tenant(s). When submitting your rental application, you should try and cater each cover letter to the specific property you're applying to and mention why you like the property (good commute to your university, nice location, etc). While a rental application cover letter should be formal, let your personality show so your potential property manager can get to know you as a person a little better.
✍ Printable Template for Rental Application Cover LetterDownload & print a free template for your rental application cover letter here!
Free Download PDF
 Work Reference Letter:
Have your boss, employer, or colleague write a rental reference letter attesting to your employment and character as an employee. Property managers want to know you're a reliable employee who will be able to pay rent on time.
 Character / Rental Reference Letter:
Find someone who is not family to write a character reference letter or a rental reference letter. This could be a neighbour (to attest to the fact that you're a considerate neighbour), a teacher or professor (who knows you personally), or a past landlord who can vouch for you as a good tenant. Having more than one rental reference letter from different sources can boost your chances of getting your dream home.
 Payslip or Proof of Income:
Include your payslips if you're employed, and any Rent Assistance or other allowances/payments you might get that will prove to potential landlords that you will be able to handle the cost of renting and pay your rent on time.
 Rental History:
If you've rented previously, your rental history will show all former addresses, late rent payments, evictions on your record, criminal history, credit score and other information a property manager might want to know. This information can be accessed with your permission by landlords or managers and is very important to a successful rental application.
 Pet Information:
If you want to move with your pet when renting, include a resume about them as well. Include their temperament, vet and health history, and other information a potential property manager/owner would want to know about any animals living on their property. Remember, pet bonds are only legal in Western Australia, but check your state's laws when it comes to renting with a pet.
 Photo ID:
You will need a copy of your valid identification, such as a driver's license or passport. Make copies ahead of time rather than wait for the property manager or agent to follow up with you.
It's important to remember that viewing and inspecting potential rental homes should be given the same weight as a job interview. Dress well, show up on time, and show interest in the property being viewed in order to stand out and increase your chances of your application being accepted.
How to Create a Rental Application As a First-time Renter
If you're a first-time renter, you won't have a rental history to show property managers. Don't worry though! Everyone starts off as a first-time tenant, and by including a bit more information and creating a quality rental application, you won't need to worry about property managers passing over you. In addition to everything listed above (where applicable), first-time renters should include and focus on:
 Finding a rental guarantor: If you're renting for the first time, or could fail a credit-check, you might need someone to co-sign your lease. This person will be held accountable if you don't pay your rent or damage the property and can add credibility to your rental application. In some instances, this can be your parent, guardian, or someone else who is employed and with good credit.
 More references: Good-quality character references can sway a property manager or landlord to rent to you. Teachers or professors, business partners or associates, employers, doctors, or neighbours can all act as references.
 Last utility bill (such as phone, electricity bill, or gas bill) or rates notice
If you're a first-time renter, it won't hurt to build a relationship with the agent, property manager, or landlord. Ask them what additional information or documents might increase your chances of your application being accepted, talk with them during the viewing, and show your interest in the property.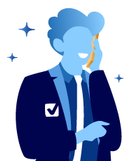 New House? – Get set up now!
Set up utilities at your new home in just one click!
What If I'm Blacklisted As a Renter?
During the rental application process, agents and property management companies will probably access your rental history. Your rental history is similar to a background check and can be found on the National Tenancy Database, and you will need to give the leasing agent or property manager approval to check it when submitting your rental application.
The National Tenancy Database checks and verifies:
The tenant's identity
Bankruptcy and court records
Problems in previous rental history
This database will also highlight if you're blacklisted as a tenant. To be blacklisted means a previous landlord or property manager lodged a complaint against you, that was effective enough to get you blacklisted as a future tenant. This can pose a problem if you had previous issues with a rental property, and want to rent again.
Reasons you might get blacklisted as a tenant include:
You consistently paid your rent late
You caused excessive damage caused to property
You used your rental bond or security deposit to cover outstanding rent
You've been evicted
You broke your rental agreement or lease agreement
If you're notified that you've been blacklisted during the rental application process, you can take steps to change this status by paying anything you owe. If you pay the amount owed within three months of the due date, your name will be wiped from the database.