Electricity and Gas Distributors in Australia

Your energy distributor is not the same as your energy provider. Your energy distributor is who you should call when you have a power outage or an energy emergency. Read on to learn what an energy distributor is and which one you have.
---
What Is an Energy Distributor?
You may have thought your energy provider was the one sending energy into your home. However, Energy Distributors, or Distribution network service providers, are the ones who send energy into your home or business from the powerlines.
There are different energy distributor network zones depending on your location in Australia. These zones dictate who your energy distributor is, as well as the price of your energy, and the type of energy available to you.
Energy distributors and your energy provider work together to ensure your electricity and gas supply reaches your home. When you set up an energy service through a provider, they get in touch with the energy distributor to arrange for connections or disconnections.
It's just as important as to know who your energy distributor is as well as your energy provider. If you ever have a complaint against your energy distributor, you can contact the Energy Ombudsman in your state.
Who Do I Call in a Power Outage or an Electrical Emergency?
If you have a power outage or spot an electrical emergency you should contact your Energy Distributor, not your energy provider.
Call your energy distributor if you have any emergency relating to your electricity or gas supply such as:
Fallen power lines
Sparking power lines
A transformer explodes
You spot an electrical fire outside
You spot a gas leak or smell of gas
In case of life-threatening emergency or damage to a person or property, dial emergency services at 000.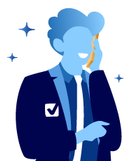 Need Help Switching Electricity or Gas Provider?
Selectra can help! Speak to an agent or get an online below!
Who Is My Energy Distributor?
To find your energy distributor, you can check your last bill statement from your energy provider.
However, Below we have compiled a list of all the energy distributors by state.
Bear in mind that if you generate your own electricity or are part of the Distributed Energy Resources Register, you may still have an energy distributor, especially if you sell energy back to the grid.
LPG gas users may find that their LPG gas provider is also their distributor. For those living in rural areas or areas not covered by your energy provider they may partner with local LPG bottled gas suppliers to fulfill your new replacement orders.
See Energy Distributors by State
Click below to find a better deal for your home!