Reading and Understanding Energy Bills in Australia

Energy bills aren't just there to tell you how much you owe your electricity company, they can give a lot of insights into your energy usage. Once you're equipped with this knowledge, you're better prepared and able to make informed decisions about your energy plan and habits. Read below to learn more about the information you can find on your energy bill, and how to use this information to help you save money by switching to the best energy provider for you.
---
What information is on my energy bill?
Energy bills might look complicated, but they all contain the same basic information. By knowing what you're looking at, you can start to take control of your energy usage; whether it's by lowering your energy consumption, changing your tariff, or switching energy providers.
 Personal and account details: The name of the account holder(s), billing & supply addresses, and account number (which is also usually your reference number for bill payment methods)
 Billing period: Most energy providers send out bills every three months. However, some energy providers have more frequent billing periods such as weekly, fortnightly, or monthly, sometimes known as bill smoothing or SmoothPay. In this example, the billing period is short because the customers requested a special meter reading
 The date and amount of the payment due: Some payment methods such as cheque by mail take longer to process than others. To avoid late fees, make sure to pay your energy bill well before the due date or choose a payment method without a processing wait.
 Usage summary and plan: This shows you how much energy you used compared to last year, and which plan you are on.
 Energy distributor: Your energy distributor is who you call for emergencies, outages, or maintenance.
 Payment methods available: All the ways you can pay your bill, and any information you might need to complete the payment such as billing codes or mailing address.
 Account summary of usage and payment activity. This will show you your previous billing and a summary of your new charges. Here you can again find the total amount you have due.
 The balance of your previous payment, and when the payment was received.
 Other charges and adjustments: Anything outside of your tariff that will affect the cost of your energy bill. In the electricity example, there was a special meter reading, while the gas example had a late payment fee, but other charges can include concessions and rebates or solar feed-in-tariffs.
 This is all the information about the meter reading you were billed for. The supply address and meter number used for the reading, whether the reading was an actual reading or an estimated reading, and the date the reading occurred.
 Electricity charges: This shows you the breakdown of your usage, rates, and the total amount due (12).
 Payment slip: This is the piece of paper you need to send in or present if paying by cheque in the mail, or at the Post Office
 Final summary of your account information
 Information about your energy usage and how it compares to other households of a similar size, how it compares to your energy bill from the same time last year, or if there is another plan available through your current provider that might be cheaper than than the plan you're on now.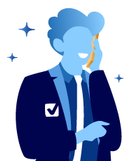 Need Help Switching Electricity or Gas Provider?
Call our Energy Experts Monday to Friday 9am to 8pm and Saturdays 9am to 4pm and find the best energy deal for you.
Electricity bill example
Here you can find an example of an electricity bill for Origin Energy. While this electricity bill example is for one provider, most providers have the same basic layout of electricity bill.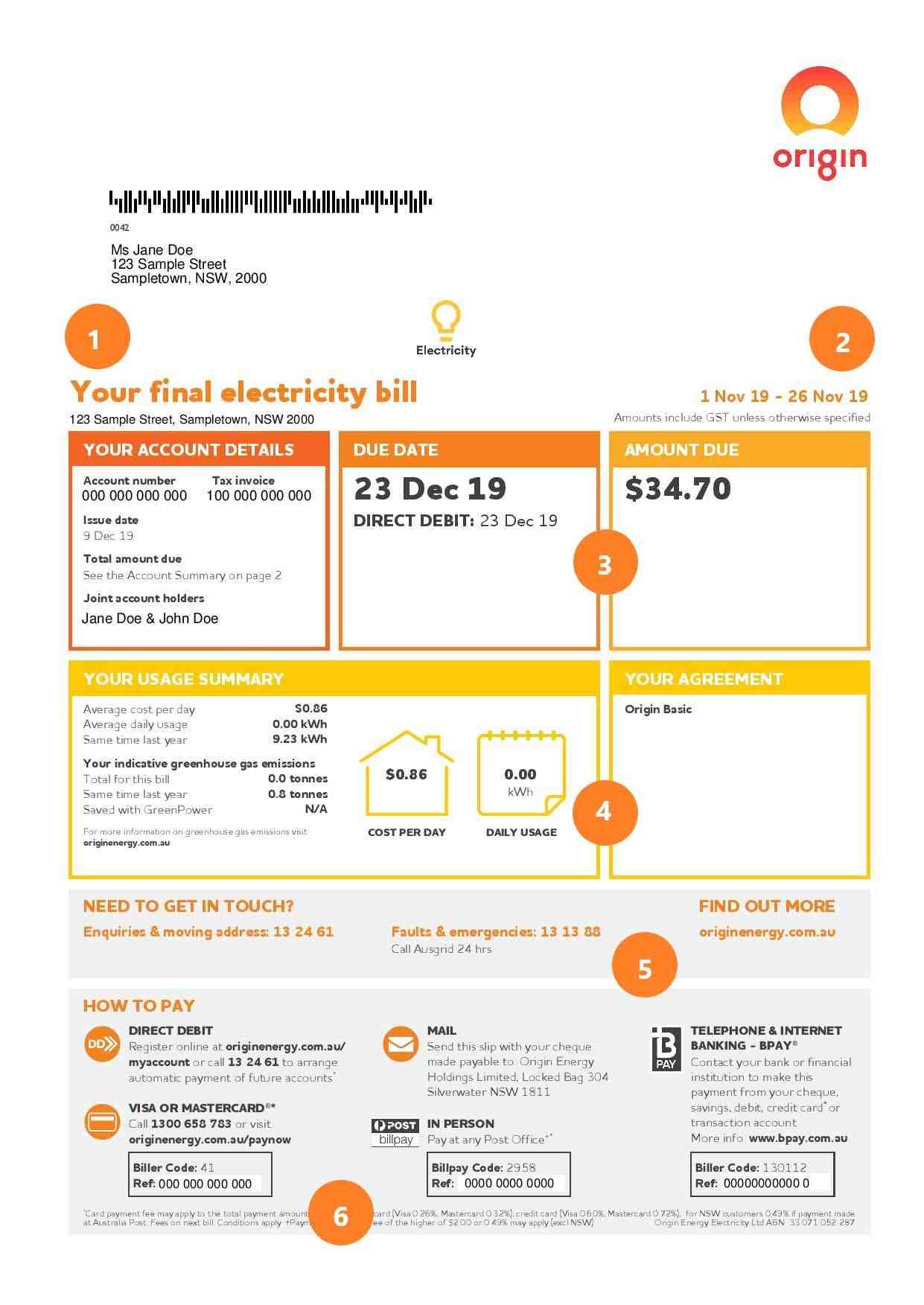 Gas bill example
Here is an example gas bill from Origin Energy. While this gas bill example is specific to one energy provider, most of the information found on this bill is the same as other energy providers in Australia.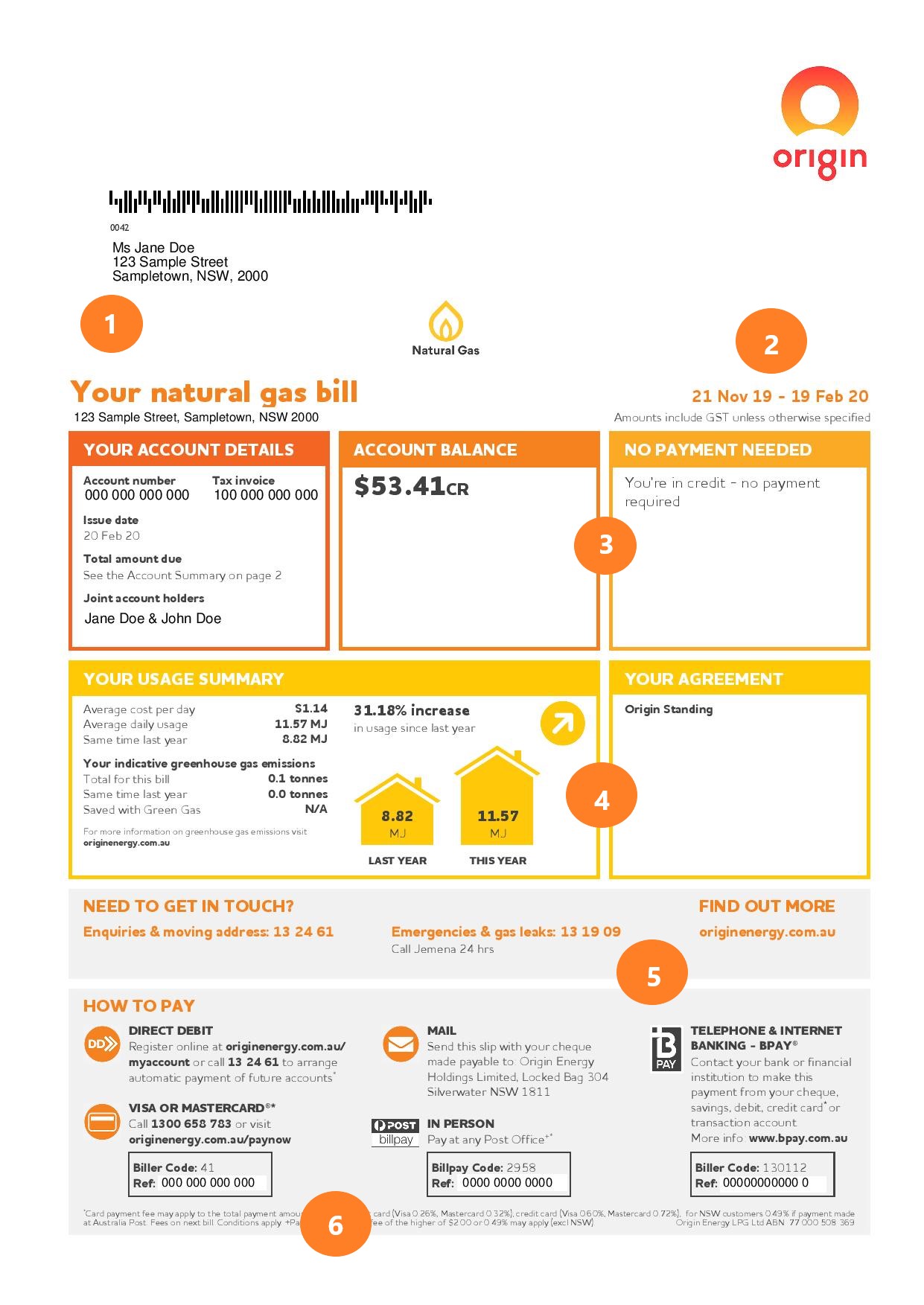 It's important to remember that many smaller energy retailers are doing away with traditional methods of purchasing and paying for the energy you use, and every provider is different. Pay-as-you-go, wholesale, or other methods of paying for and receiving energy are becoming increasingly popular. Check your household's energy retailer for more information about their billing and payment methods.
How is my energy bill calculated?
The amount you owe on your energy bill is calculated using a number of factors, including:
Daily supply charge: The amount of cents per day to have your energy supplied to your house
Usage rates: Your energy consumption multiplied by the cents per kWh or MJ. You may have a flat or single rate, meaning your energy costs the same at all times of the day, or your usage rates might be broken up into peak and off-peak usage, a controlled load, or in blocks based on usage.
Outstanding payments: Anything you may still owe from previous energy bills
Discounts: Any conditional or unconditional discounts that apply to your bill. This could include a pay on time discount or a direct debit discount, depending on your plan
Credits: Any credits on your energy bill, whether from a solar feed-in-tariff or because you overpaid on an estimated energy bill in the past. Credits toward your account will usually be marked "Cr".
Concessions or rebates: Any government concessions or rebates applied to your bill.
In addition to the total owed on your electricity or gas bill, your bill will break down all the individual charges so you can see exactly why you're being charged your total. If a pay on time discount is applicable, your bill will show two amounts: a lower amount if your bill is paid before the due date, and a higher amount if your bill is paid after the due date.
Average electricity bill cost in Australia
Energy bills are expensive, and any number looks too big. But are you actually paying more than the average Australian? Below is a table of the average annual electricity bill in Australia, state by state, as reported by the AEMC in their Annual Residential Electricity Price Trends Report for 2019. Average estimates are based on a three-year period, and are for the 2018/2019 fiscal year.
Average annual electricity bill in Australia
State
Average Electricity Bill
(2018/2019)
South-East Queensland
$1,425 / year
New South Wales
$1,294 / year
Australia Capital Territory
$1,937 / year
Tasmania
$1,906 / year
Victoria
$1,135 / year
South Australia
$1,854 / year
Western Australia
$1,600 / year
Source: AEMC Annual Electricity Price Trend Report 2019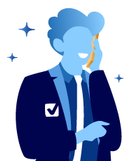 Need energy advice?
Our Energy Experts can help you Monday to Friday 9am to 8pm, and Saturdays from 9am to 4pm.
Ways to lower your energy bill
Energy bills are a big expense, and costs only seem to be increasing. Luckily your energy bill can help you learn more about your household's energy usage, and ways you could lower your energy costs.
 Tariff type: Do you generally use your electricity when most people are out of the house and at work? If you use more electricity during off-peak hours, switching to a time-of-use tariff might save you money by charging you less during these off-peak hours. Likewise, adding a controlled load tariff to a large appliance like a pool heater or electric boiler, could save you on your annual energy costs as well.
 Energy usage: If your bills are exceptionally high when compared to other households of similar size, you might want to look into energy saving measures for your residence. These could range from unplugging appliances when not in use, to adding window treatments and other home renovations to increase energy efficiency.
 Switching plans or providers: If you've never compared energy providers before, you might be getting charged what's known as the "lazy tax" for not shopping around for the best energy provider for you. And even if you have switched before, prices change all the time and there could be something better out there. Switching providers is usually quite easy, once you sign up for a new plan, your new provider will get in touch with your previous energy provider on your behalf to switch you over.
What if I can't pay my bill?
If you can't pay your bill, for whatever reason, it's best to contact your energy provider immediately and find out what options are available to you. Whether it's a one-off missed payment or a consistent difficulty, your energy provider is legally obligated to go over your financial hardship options. These could include a payment extension or payment plan, information about government concessions and rebates, or information about energy saving measures to lower your bill.
Call us to find a better deal for your home!