How to Read Your Electricity & Gas Bill – Explained – 2022

Energy bills aren't just there to tell you how much you owe your electricity company, they can give a lot of insights into your energy usage. Once you're equipped with this knowledge, you're better prepared and able to make informed decisions about your energy plan and habits. Read below to learn more about the information you can find on your energy bill, and how to use this information to help you save money by switching to the best energy provider for you.
---
What Information Is on My Energy Bill?
There are 3 main parts to your electric bill:
Account information: (name, address, meter number, account number, tax ID, etc.)
Usage Summary: (your plan, energy rates, meter readings, amount of energy used, the total amount owed, usage history, etc)
Payment Information (how much you owe, past payments, discounts and deductions, payment methods, company contact for support, etc)
Thankfully, in the last few years, it has become a lot easier to read and understand your energy bill.
Below we break down what information you will find in more detail to help you with understanding your electricity bill a bit better.
Account Information: How to Read Your Electricity Bill
The first page of your electric bill will start by showing you an overview of your account information.
Your account information includes:
Your Name, Address & Meter Number
Your energy account number
Your tax invoice number
The Dates for the Billing Period
Your Supplier's Contact Number
Your Distributor's Contact Number
Your account information is always shown on your bill in case you need to contact the company with questions or concerns.
You can quickly refer to the account information of your bill to help your provider to identify your account when you call. They will need: your name, address and account number.
Usage Summary: How to Read Your Electricity Bill
The next section of your bill contains information about your usage and how much you will be charged.
Your usage summary includes:
The name of your plan
Your energy rates
Your meter readings
The amount of energy you used
The total amount owed
Previous usage history
Usually, your bill will include a simplified usage summary on the front page, which will show you an overview of how much energy you used and how much it costs in total.
The simplified summary includes:
Average cost per day
Average daily use
A section regarding your greenhouse gas emissions.
A comparison of this bill's usage vs. your usage last year.
However, on the back of your energy bill you will find a more detailed breakdown of your energy usage.
The back of the bill will show you:
Your energy rates or the name of your energy plan
The time your energy was consumed
Your meter readings
Your energy consumption in kWh
Your total supply charges
Discounts, deductions, concessions & rebates
A total amount due including GST.
How to Understand Your Energy Bill Usage
There are 2 types of charges you will find on your energy bill relating to your energy usage:
The usage charge
The supply charge
 The usage charge: how much money you owe for each unit of energy consumed.(Usage units are represented as kWh for electricity & Mj for gas)
 Your supply charge is the price you pay per day for having energy supplied to the property.
Keep in mind:If you don't use energy at the property for several months, you will not have any usage charges, but the supply charge still applies.
Your meter reading will be used to determine your overall energy usage. Check your bill to see if you have an "A" for Actual meter reading or an "E" for estimated meter reading. Estimates may be used to calculate your bill when the company does not have access to a meter reading.
Depending on your energy plan, your usage charges may also include a time-of-use charge such as: peak rate, off-peak rate shoulder and controlled load rates.
Lastly, any deductions or discounts you have with your energy supplier will be subtracted from your usage to calculate the total amount owed. Some people may not have any deductions in this section.
Does Electricity Have GST?Electricity charges reflected on your energy bill all include GST.
How to Read Your Electricity Bill's Payment Information
Lastly, your bill will include important payment information.
You will notice that the amount you owe is mentioned several times in different sections of your bill, however, it can also be found in the payment information section.
Your payment information includes:
How much you owe
The payment due date
Past payments you've made
Available payment methods
Company contact information
A payment slip
Once you have located your amount due to be paid and the payment due date, you should take a look at the payment methods section.
Most suppliers have multiple way to pay your bill. These tend to include:
Direct debit
In-person at the post office
Mail-in payments
Online payments
Over the phone
Using Bpay
Not all providers will offer the same payment methods. Check your bill to see the payment options your provider offers-
You'll also find a payment slip attached to your bill if you decide you would like to pay your bill by mail. Simply include your bill's the payment slip in the envelope when you send in your payment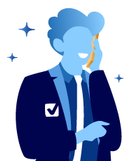 Need Help Switching Electricity or Gas Provider?
Selectra can help! Speak to an agent or get an online below!
Electricity Bill Example
Now that you have learned how to read your bill, it's time we look at an example.
Here is an example of an electricity bill using an Origin sample bill. Although this electricity bill example is for Origin Energy, most providers have the same basic layout in order to help you read the electricity bill more easily.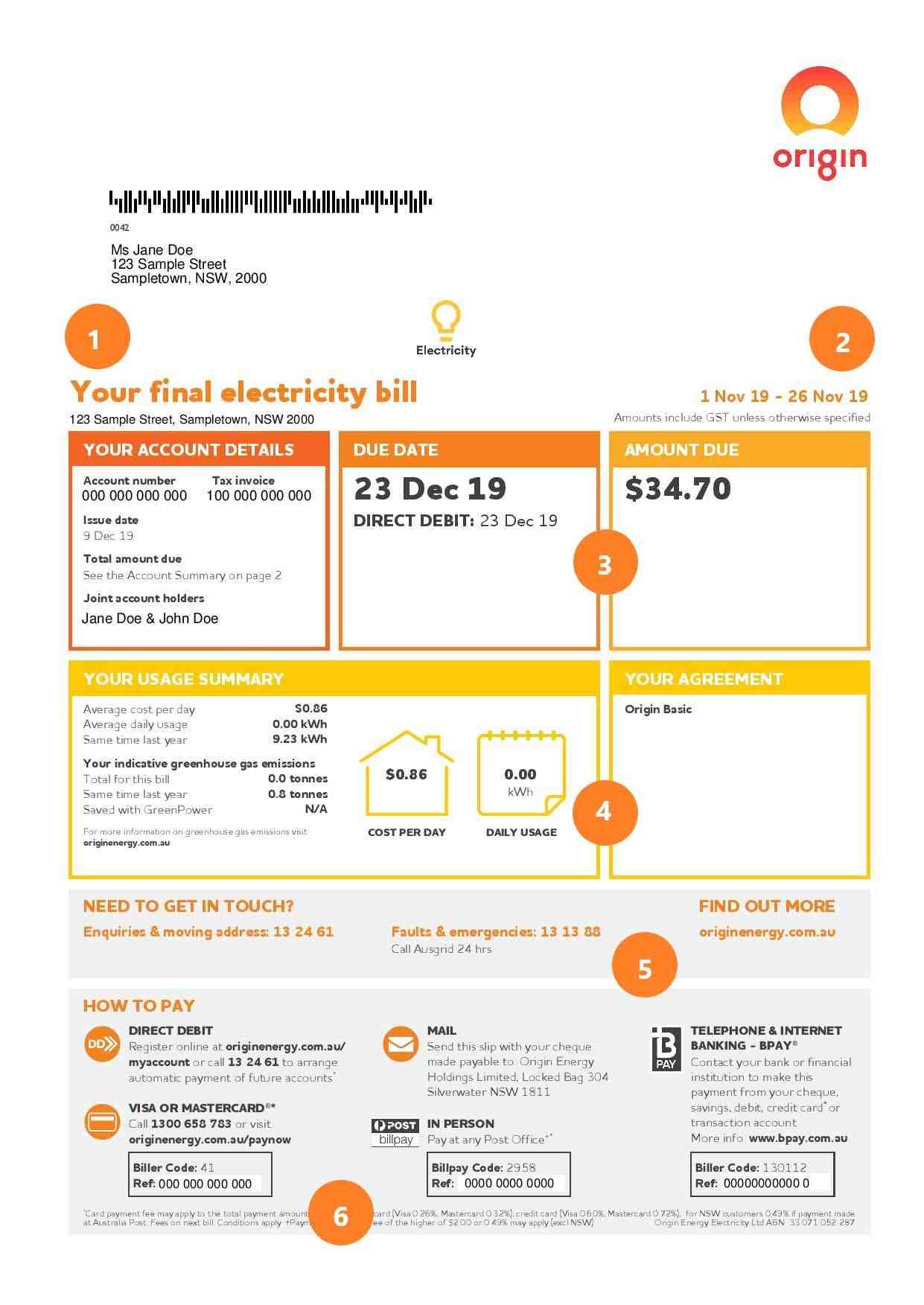 Are Gas and Electricity Bills Different?
Gas and electricity bills are not very different and include many of the same details.
Account information
Usage information
Payment information
However, it's important to note that even if you have gas and electricity at your property with the same company, you will receive a separate bill for each.
The main difference you'll see when reading your gas bill is that your electricity is counted in kWh and your gas is counted in Mj. You will also likely have a different distributor listed on your bill for gas and electricity. However, for the most part, the bills will be pretty much the same.
How to Read a Gas Bill
Now that you've learned how to read an electricity bill and a gas bill here is an example gas bill from Origin Energy.
While this gas bill example is specific to one energy provider, most of the information found on this bill is the same as other energy providers in Australia.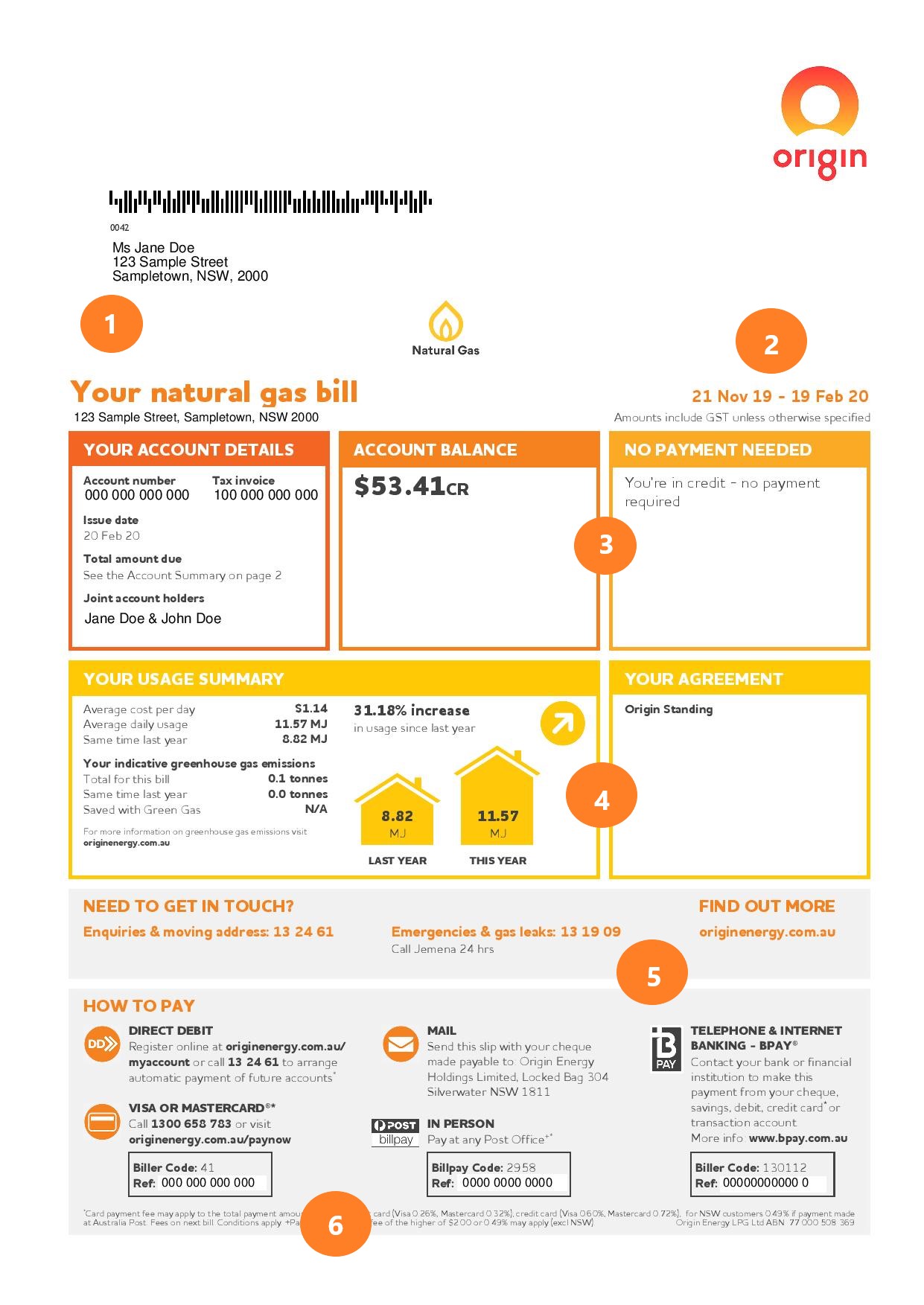 It's important to remember that many smaller gas retailers are doing away with traditional methods of purchasing and paying for the energy you use, and every provider is different.
Pay-as-you-go, wholesale, or other methods of paying for and receiving energy are becoming increasingly popular. Check your bills for more information about your providers billing and payment methods.
How Much Should My Bill Cost?
There is no correct answer to how much your energy bill should cost as it depends on multiple factors specific to each persons individual situation.
However, the nationwide average for electricity bills in Australia is $1,645 / year. This number can be higher or lower depending on your state and your individual consumption.
If you have more questions about the average energy bill in your state or for a household of your size, you can take a look at our detailed report on the average annual electricity bill in Australia. Here you will see a state by state breakdown for average electricity bills in Australia between 2020-2021. (The 2022 report will be published in 2023.)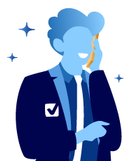 Need Energy Advice?
Our experts are avialable to help you free of charge:
Ways to Lower Your Energy Bill
Energy bills are a big expense, and costs only seem to be increasing. Luckily your energy bill can help you learn more about your household's energy usage, and ways you could lower your energy costs.
See our detailed guide on how to reduce your electric bills, where we cover all of the available methods to save on your bills.
 Tariff type: You can change your tariff to a time-of-use tariff to save you money by paying less when you use enrgy during off-peak hours. Likewise, adding a controlled load tariff to a large appliance like a pool heater or electric boiler, can save you on your annual energy costs as well.
 Energy usage: Look into energy saving measures if your bills seem abnormally high. These could range from unplugging appliances when not in use, to adding window treatments and other home renovations to increase energy efficiency.
 Switching plans or providers: If you've never compared energy providers before, you might be getting charged the highest rate at the default market offer. Switching providers is quite easy. Contact our Selectra representatives to see how you could save by switching tariffs.
Click below to find a better deal for your home!